It's time to 'throw a rock' over Russian influence on election, says US senator
Republican Lindsey Graham advocates striking Vladimir Putin with more than mere sanctions.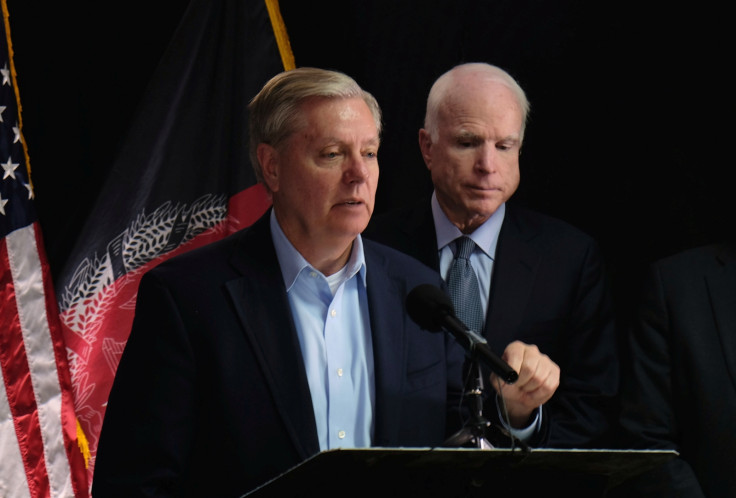 Republican Senator Lindsey Graham is ready "to throw rocks" against Russia for their attempts to influence the 2016 election on Thursday (5 January).
"I think what Obama did was throw a pebble," Graham said, during a Senate Armed Services Committee on foreign cyber threats to the US, citing President Barack Obama's expulsion of 35 Russian diplomats from the US last week. "I'm ready to throw a rock," he said.
He spoke during a testimony given by Director of National Intelligence James Clapper, Cyber Command Chief Admiral Mike Rogers, and Defense Undersecretary Marcel Lettre. Clapper and the heads of the CIA and FBI are due to brief President-elect Trump Friday on the contents of intelligence reports into Russian hacking operations against US political targets. Declassified copies are set to be released on Monday (9 January).
"Putin is up to no good and he has to be stopped," Graham said. He spoke publicly to Trump, asking him to be "sceptical" of the reports but realise that America's intelligence agencies are working to protect Americans.
Trump has criticised the intelligence community heavily, over their conclusions about Russian involvement in hacks on the Democratic National Committee (DNC), and a breach of the Democratic campaign in the spring and summer. Emails from both groups appeared on Wikileaks.
On Wednesday Trump tweeted comments by Wikileaks' head Julian Assange who said the hack could have been "a 14 year old." In the past, Trump has argued that the hackers could have been a 400lb man. "Unless you catch 'hackers' in the act, it is very hard to determine who was doing the hacking," Trump wrote on Twitter on 12 December. Cybersecurity experts disagree with his assessment.
What "if Trump takes on China, are they capable of doing this?" Graham asked Cyber Command Chief Admiral Rogers, speculating on potential future cyberattacks. "Yes," Rogers said.
"Ladies and gentlemen, it is now time to throw rocks, not pebbles," Graham said, offering the rationale that the US needs show a deterrent force.
The day after Obama imposed new sanctions against Russia last week, Graham issued a joint-statement with Senator John McCain as they toured the Baltics to reassure America's Nato allies in the region that the US would continue to offer security support.
The two said they "intend to lead the effort in the new Congress to impose stronger sanctions on Russia" and that "the retaliatory measures announced by the Obama Administration... are long overdue" for Russia's "brazen attack on American democracy."
© Copyright IBTimes 2023. All rights reserved.