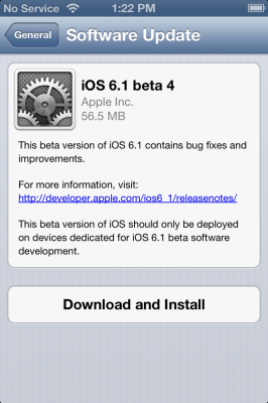 Apple released the fourth iteration of iOS 6.1 beta update for developers just a little while earlier, and the tethered jailbreak for the new update is already out for evaluation. The developer's release is based on the public release of iOS 6.0 firmware. The latest beta update is now available both as a delta update as well as direct download from Apple's developer portal.
The existing tethered jailbreak for iOS 6.1 (using Redsn0w) is compatible with pre-A5 devices only such as iPhone 4, iPhone 3GS and iPod Touch 4G. It will not work on iPhone 5, iPod Touch 5G or any other device and owners of these devices will have to wait for the public release of a tethered or untethered jailbreak solution in the near future.
How to Jailbreak iOS 6.1 Beta 4 on iPhone 4, iPhone 3GS and iPod Touch 4G Using Redsn0w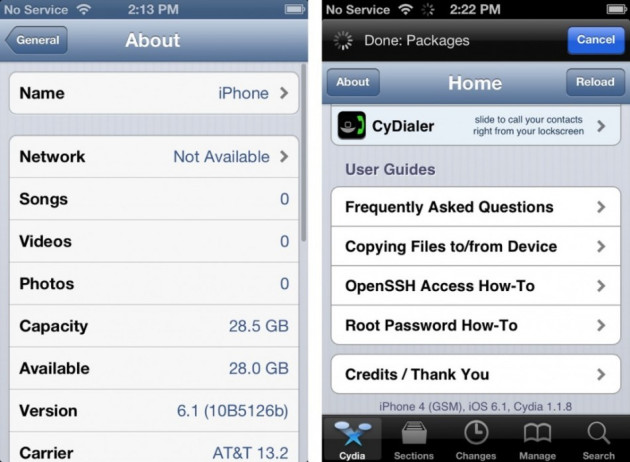 Step 1: Download iOS 6.1 beta 4 (developers only) for your compatible device via Apple's developer portal, or as a delta update.
Step 2: Download iOS 6.0 for your device from here
Step 3: Download the latest version of RedSn0w (0.9.15b3) from here
Step 4: Connect your device to the computer, and launch RedSn0w. Boot your device into DFU mode, and RedSn0w should recognise the device in DFU mode.
Step 5: Click Extras > choose IPSW > and select the iOS 6.0 IPSW file that you downloaded in Step 2. RedSn0w 0.9.15b3 should successfully detect the firmware.
Step 6: Return to the main page of RedSn0w and click Jailbreak. Once it completes processing, ensure that Install Cydia option is checked, and click Next to complete the entire jailbreak process.
Step 7:After considerable wait, the iPhone will reboot into the Lock screen. Now, put the device back into DFU mode.
Step 8:Once again return to main page of RedSn0w, click Extras > Choose IPSW > and select the iOS 6.0 firmware. RedSn0w should now successfully recognise the firmware.
Step 9: Select Boot tethered, and a tethered boot will be done on your device. Similar to the initial jailbreak, this is a bit time-consuming process. When you see a pineapple logo during bootup, it signifies a successful tethered boot.
Step 10: Once the tethered boot is done, your device will return to its Lock screen. Now, unlock the device, and swipe over to the second Home screen. It may take a few seconds, but eventually you will see the Cydia icon appear. Launch Cydia and wait for its initial configuration and setup.
You have now successfully jailbroken iOS 6.1 beta 4 on your device. As this is a tethered boot, you need to repeat steps 8 and 9 again in order to reboot your device at any time.
For further assistance check out the video tutorial below:
[Source: iDownloadBlog]