Several bomb blasts in the Indonesian capital Jakarta have left at least six people dead, including three policemen. Coordinated attacks were centred around Thamrin Street, a shopping centre near the presidential palace and the United Nations offices.
Indonesian police say the attack has ended with five assailants confirmed dead, AP reports. It is not yet clear which group are behind the assault.
President Joko Widodo has condemned the "act of terror" during a speech on Indonesia's Metro TV. "We all are grieving for the fallen victims of this incident, but we also condemn the act that has disturbed the security and peace and spread terror among our people."
UK Foreign office issues Indonesia travel advice
The UK's foreign office has updated its travel advice to Indonesia, warning Britons to follow the instructions of local authorities to avoid the scene of the attacks.
"During the morning of 14 January there were explosions and gunfire reported in the vicinity of the Sari Pan Pacific Hotel and Sarinah Plaza on Jalan Sudirman Thamrin, Jakarta in central Jakarta. You should avoid the affected area, limit your movements and follow the advice of local authorities," the advice on the website reads.
The FCO warns there is a high threat from terrorism, although most visits are trouble-free for the 220,000 Britons who visit Indonesia every year. Even though the Indonesian authorities have successfully disrupted attack planning in the recent past, the threat from Islamist extremism remains high.
The last successful major attack was on 17 July 2009 when the JW Marriot and Ritz-Carlton hotels in Jakarta were bombed, with one British national killed. Indonesian government, law enforcement interests and places of worship are regularly targeted by extremists.
"Attacks could be indiscriminate, including in places frequented by foreigners. Beach resorts, bars and restaurants, hotels, markets, shopping malls hosting major international brand outlets, tourist attractions, places of worship, foreign embassies, ferry terminals and airports are all potential targets," the FCO states.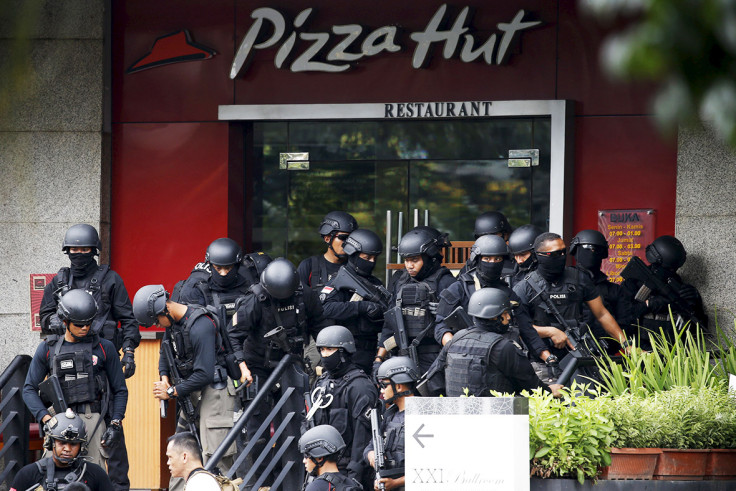 Netherlands confirm injured citizen
The Dutch embassy in Jakarta has updated its travel advice to its citizens travelling through Indonesia. A Dutchman has been injured in the attack and is receiving medical treatment at a hospital the embassy said.
"There is a Dutch victim, but we don't know his status," spokesperson Nico Schermers, of the Royal Netherlands Embassy in Jakarta confirmed. "One of our staff is on the way to the hospital."
"According to the Indonesian authorities the crisis situation is concentrated around the wider Thamrin area and that there are no indications the attacks have occurred elsewhere. You are therefore strongly advised to continue to avoid the broader Thamrin area, to remain vigilant for all other areas and to avoid crowded spaces."
Foreign minister Bert Koenders and travel experts Floortje Dessing have launched a new central helpline for travellers. The Ministry of Foreign Affairs can be reached 24 hours a day, seven days a week at +31 247 247 247 for assistance.
Germany declares no nationals affected in blasts
Germany's foreign ministry also updated its travel advice. It said it believed no Germans were hurt and warned citizens to avoid downtown Jakarta.
Australia urges extra caution in Indonesia and Bali
The attack in Jakarta has prompted the Department of Foreign Affairs and Trade to update its travel advice for Indonesia, advising tourists to avoid the affected area, limit their movements and follow the instructions of local authorities.
"We advise you to exercise a high degree of caution in Indonesia, including Bali," said the statement on the Smart Traveller website. Australian authorities recently expressed concerns over the large number of Indonesians travelling to Iraq and Syria to fight alongside Daesh.
Canada warns of active terror cells in Indonesia
The Canadian government has updated its travel advice to travellers in Indonesia, warning tourists to exercise a "high degree of caution" due to a continuing threat or terrorist attacks throughout the country.
Following the explosions and gunfire in Jakarta, it advices its citizens to avoid the area, remain vigilant, monitor local media and follow the advice of local authorities.
"There is an ongoing high threat of terrorism in Indonesia. While effective counterterrorism measures by Indonesian authorities are in place, terrorist cells are active and have the capacity to carry out Indonesian attacks anywhere in the country. High-profile Western facilities or businesses and places frequented by foreigners may be considered potential terrorist targets."