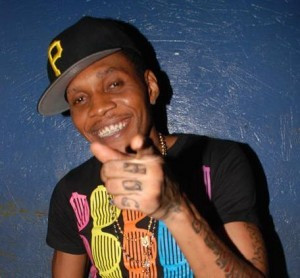 Dancehall star Vybz Kartel has escaped from a prison in Jamaica, after holding a prison guard at gun point which resulted in his death.
According to reports, the 35-year-old dancehall, whose real name is Adidja Palmer, fled the prison last night after he held an officer at gun point, which caused the guard to suffer a fatal heart attack.
The famous dancehall star, who has worked with big names including Jay-Z, Rihanna and Eminem, was being held at the Horizon Adult Remand Centre after he was charged with murder, conspiracy to murder and illegal possession of a firearm last month.
In what TaleTela website is calling Jamaica's biggest prison escape ever, Kartel allegedly started a riot at the prison around 1am local time, where he was being held pending investigation over his possible involvement in up to seven murders. After stealing clothes and keys from guards, he made his escape in a prison maintenance pickup truck at approximately 1.45am.
Twelve other guards are also said to be have injured after guns were fired at the prison.
The Force Commissioner of the Criminal Investigations Branch confirmed today that Vybz Kartel is on the run and that he and the other escapees are now on the island's most wanted list.