James Arthur has reportedly been sacked by Simon Cowell's record company Syco.
The X Factor winner has been dropped after releasing a new track in which he appears to glamorise terrorism.
The song, Follow The Leader, is featured on a mix tape released direct to fans called All The World's A Stage and includes the lyrics: "I'm gonna blow up your family like I'm a terrorist."
Simon Cowell is said to have been shocked by the lyrics, which were the final straw in a series of controversies involving the singer.
"He has done himself no favours with his outbursts," a source said. "It's as if he's almost willing Syco to drop him. Simon and Syco have been extremely loyal to James throughout his problems but there's only so much they are prepared to put up with.
"It feels like the end of the road for him at Syco - James has been his own worst enemy."
The 26-year-old attempted to defend his song writing, claiming that his songs were from the point of view of a crazy fan and that the lyrics needed to be understood in context.
Another track appears to glamorise drug use, while a third song is replete with foul language.
The reality star has bizarrely compared his circumstance with that of SeaWorld killer whale Tilikum, who killed two trainers and trespasser in Florida. The mix tape, which is due for release later this month, features a picture of a killer whale.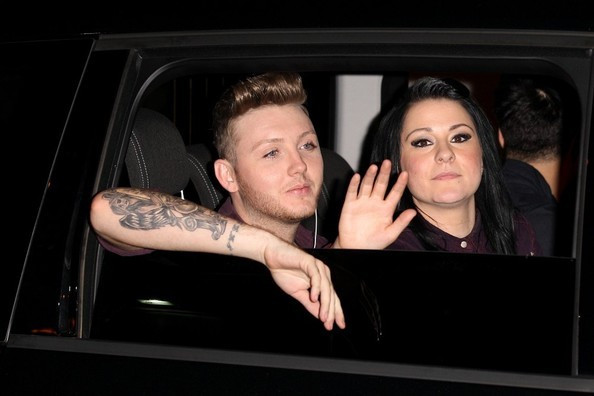 It's the latest in a series of spats and controversies that have plagued the singer since he won The X Factor in 2012.
He waged a public feud with former winner Matt Cardle and later had a Twitter spat with fellow X Factor contestant Lucy Spraggan, after he made several homophobic comments. Fans demanded refunds for his album following his homophobic remarks about rapper Mickey Worthless. He lashed out at Rita Ora and then engaged in an online tirade against model Teddy Edwardes.
His first single Impossible reached number one in the charts in January 2013, however when his last release with Syco, Get Down, failed to reach the top 40, Arthur criticised his publicity team saying they should "stick to promoting Paul Potts."
Cowell is reported to have said that: "Somebody should have told him to shut up and just put the records out."
The singer, who was mentored by Nicole Scherzinger on The X Factor and widely praised by industry figures for his unique, edgy style, made a public apology for his behaviour, attributing his conduct to his inflated ego, and admitted he had made mistakes.
Its believed that Syco, who represent acts such as One Direction and Susan Boyle, would not continue their association with Arthur, who is constantly at the centre of controversy.