If you haven't seen James Corden's latest Carpool Karaoke, then fasten your seatbelts because you're in for a hilarious ride. Demi Lovato and Nick Jonas are the latest passengers helping The Late Late Show host get to work, and will drive you to raucous laughter as they discuss love lives and fail to remember the lyrics of each other's songs.
It was previously thought that nothing could beat the versions of the segment including the likes of Adele and Justin Bieber, but Corden delivered to his usual standards this week with his two-for-the-price-of-one showdown. Hype surrounded the news of Lovato and Jonas joining Corden for his behind-the-wheel singalong when it was revealed that the celebrity pals were the latest Carpool Karaoke guests a few weeks ago, and they lived up to the hysteria.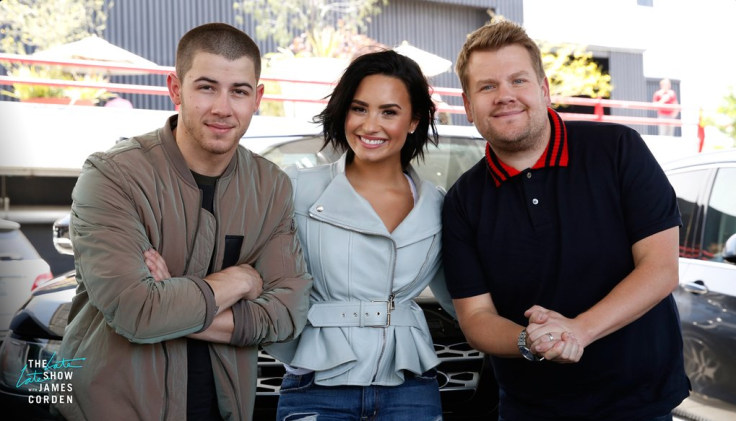 The ride gets off to an intriguing start as Lovato helps divulge sordid details about her friend of 10 years, Jonas' romantic dalliances. After Corden jokes, "[To Lovato] So you're dating Joe, and Nick you're dating seemingly… everyone," before Lovato jumped in and said, "Miley, and then back with Selena, and then back with Miley." Jonas sarcastically replied, "Thank you, Demi."
Intrigued by rumours that Jonas wore a purity ring, Corden prodded the singer for an explanation. He said: "But this is all during the time you were wearing the old purity ring, right?"
Jonas responded: "Yeah, it was. I had a real relationship, with an adult, and I fell in love actually, and felt it was time to take the purity ring off."
Despite the slightly awkward, yet funny start to the segment, the trio went on to belt some songs out, including Lovato's hit, Heart Attack, whereby Jonas struggled to remember the words and was seem mumbling at the back of the car. TV gold.
Mixing things up a little, as Corden has a habit of doing, the stars got bored of driving around Los Angeles and took to the streets to start busking, with Corden playing drums on some empty paint barrels, Jonas strumming a guitar and Lovato boasting her impressive singing abilities on vocals.
Proving he's still the same boy from London, Corden forgets his status and company and starts asking mesmerized onlookers for money.