What could be better than James Corden's Carpool Karaoke with the gorgeous Gwen Stefani? George Clooney and Julia Roberts gatecrashing put the cherry on top of a rather stale cake, it seems.
The Late Late show with James Corden's hugely popular segment with the peroxide bombshell, which has featured some of the world's biggest celebrities such as Justin Bieber, Stevie Wonder, Mariah Carey and One Direction, didn't fail to disappoint on the CBS show that aired on 4 May.
Though the British comedian is famous for bantering with his passengers, little chit-chat was squeezed out of Stefani as she accompanied Corden 'to work'. She seemed more interested in belting out tunes, such as No Doubt's Don't Speak and her solo track Sweet Escape. Judging by her overly-zealous dance moves and facial expressions, she's possibly the world's biggest fan of her own music.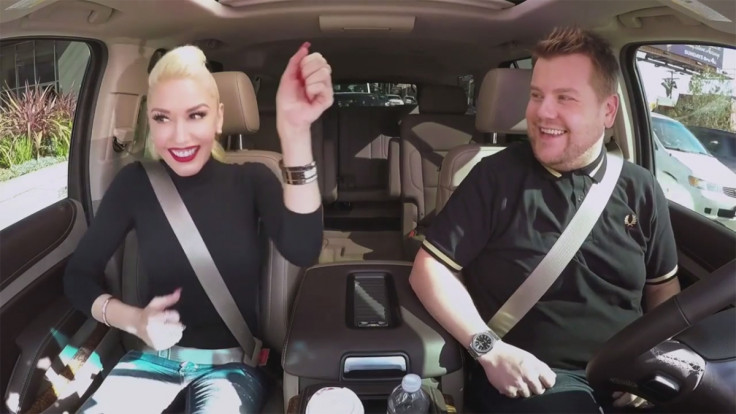 The Voice judge discussed falling in love with her country-singing new man, Blake Shelton, following her divorce with Gavin Rossdale, after Corden prodded the star about her age-defying looks. He demanded she divulge her 'regime' for his curious wife, saying: "I feel like you're getting younger."
Instead of telling us all what her night cream was, she spoke about her personal life, revealing: "What happened was, my life blew up. After that I started – I kind of started falling in love – and then I wrote a whole record about that.
"So this is almost like that's what the facelift is, I think," she added. She also did a few emoji impressions for the former Gavin and Stacey star, but was confused when asked to do one of the eggplant. Corden crudely explained the emoji by pointing to his nether regions and joking: "The eggplant is this guy... "The Truth"... the truth hurts. You can't handle the truth."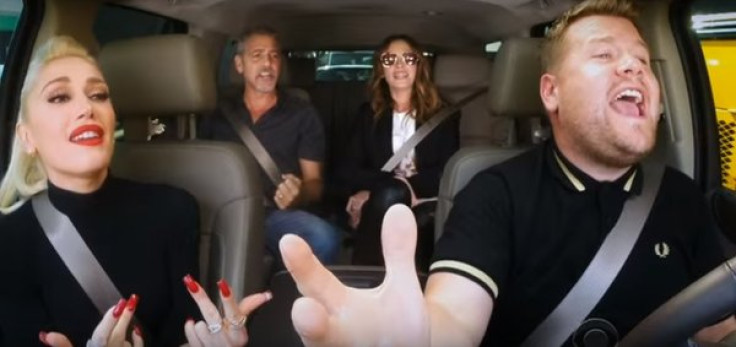 Ever the host with many a trick up his sleeve, Corden must have sensed that this Carpool Karaoke was 'no doubt' going down the slow route, and spruced it up by inviting a couple of Oscar winners along after claiming he'd ended up in the HOV (High Occupancy Vehicle) lane that requires four people.
The unlikely quartet then sang along to Stefani's 2006 hit Hollaback Girl, followed by Queen's anthem We Are The Champions as they nonchalantly drove through Los Angeles. The acting duo certainly brought a bit more spark to the flailing segment as Clooney cracked some jokes, including one gag where he took a line from one of Stefani's songs, saying: "This s**t is bananas! B-A-N-A-N-A-S."
The only thing we learned from the segment was that Clooney should most definitely get a Carpool Karaoke episode all for himself.