UK inventor Sir James Dyson is best known for inventing the bagless vacuum cleaner using his patented cyclone technology. Now the entrepreneur has revealed plans to create a floating vacuum cleaner which could be used on rivers throughout the world to clean up rubbish which is blighting our waterways.
The concept for "a barge that scoops up debris" was submitted by Dyson as part of Time magazine's Ideas Issue and while it is only a concept at the moment, Dyson has such belief in the project that he has even gone so far as to name the barge:
"The concept I propose, the M.V. Recyclone, would combat this ever growing problem of plastic waste making its way to our oceans by filtering out debris from the rubbish-stricken rivers that feed into them. By focusing on the polluted rivers, the M.V. Recyclone could tackle a concentrated stream of plastic, catching it before it spreads."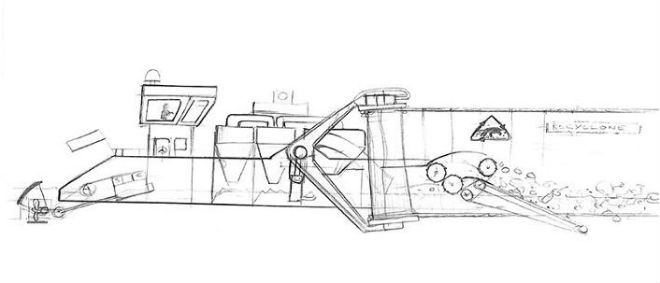 Dyson says the amount of plastic debris which has polluted our oceans has grown a hundred-fold in the last 40 years and points to hundreds of thousands of Albatross chick dying in the Pacific every year due to consuming plastic, much of it fed to them by their parents who believe it is food.
Dyson expanded on his concept in some sketches for Fast Company which show that the barge would feature a large net to capture the debris in the rivers before shredding the plastic on board and sending it to an accompanying truck, which would be travelling in tandem with the barge.
Dyson says: "Large skim nets unfurl from the rollers at its stern and are anchored on each side of the river. Hydraulic winches wind them in and out. The nets face upstream and skim the surface of the river for floating debris. The plastic waste is shredded on board and then different grades of plastic are separated by a huge cyclone—very similar to the way our cyclonic vacuums work."