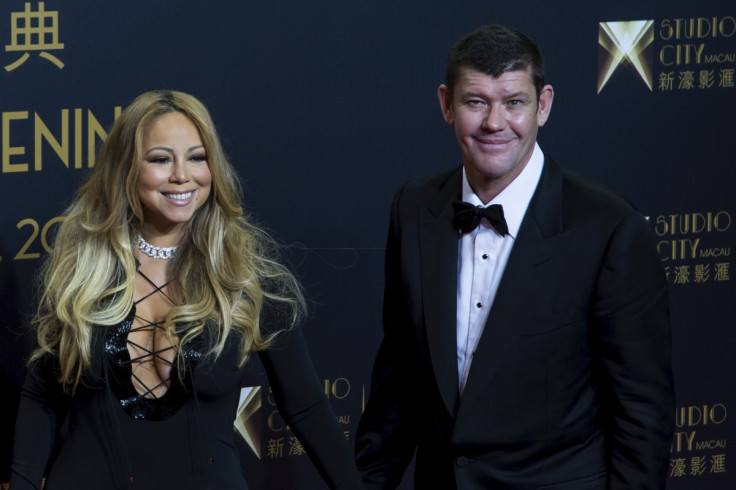 Las Vegas has some serious competition with billionaire businessman James Packer launching his lavish new casino in Macau, China. Mariah Carey's boyfriend invited some of his Hollywood friends including Leonardo DiCaprio and Robert De Niro to attend the opening night of the resort, which is said to have cost £2bn ($3bn).
At the launch night of Studio City on 27 October, Packer, 48, was supported by his superstar girlfriend Carey, who is said to have entertained guests with a four-song performance, including her hit single Hero. During the evening, attendees were treated to a specially made promotional film directed by Martin Scorsese, which starred DiCaprio and De Niro as themselves auditioning for a part in a new movie at the hotel. Titled The Audition, the 15-minute short film is also said to have featured a cameo from actor Brad Pitt.
According to the Mail Online, the Hollywood trio were each paid £8m to attend the launch and an additional £7.9m to star in the film while the entire project allegedly cost a staggering £44.7m. Terrence Winter, best known for his work on The Wolf Of Wall Street, is said to have written the script for the movie, which was produced by RatPac Entertainment, the company set-up by Packer and Brett Ratner.
However, speaking at the launch, Packer told the Herald Sun that none of the actors had been paid to attend the event, stating: "None of these guys are getting paid for being here today. They're such good friends and supporters." He added of the casino: "Nothing is a certainty, but if you build something and you try and make it the best, and you really do try and make it the best, and when it goes overbudget you say ok we'll let it go overbudget because we have to, to make it the best, you get nervous."
Studio City, a joint venture between Packer and his business partner Lawrence Ho, boasts 1,600 rooms at the hotel, lagoon swimming pools, a 130m high ferris wheel, a Batman 4D simulator and its very own arena where some of the world's biggest performers are expected to perform, including US singer Madonna who will bring her Rebel Heart tour to the resort. Macau is widely regarded as the "Las Vegas of Asia" and it is hoped Studio City will become its prominent location.
Carey, 45, began dating Packer in June 2014 following the end of her six-year marriage to Nick Cannon earlier in the year. The Australian businessman is said to have an estimated net worth of $3.9bn (£1.8bn).