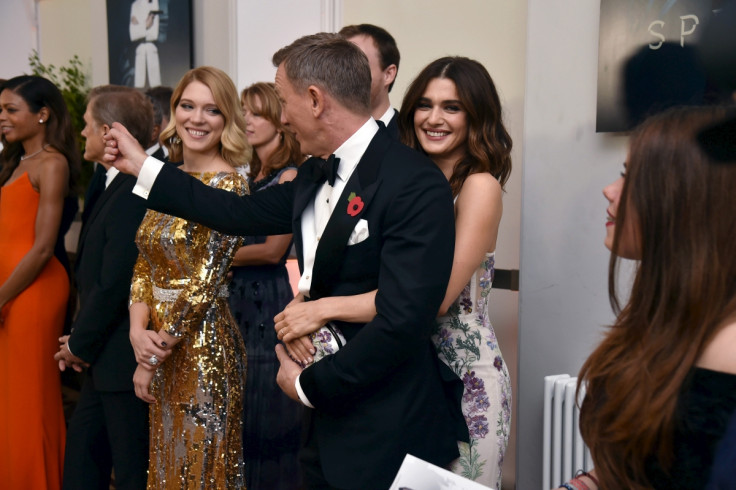 They are notoriously private about their relationship but married couple Daniel Craig and Rachel Weisz did not have a care in the world at the London premiere of Spectre. The happy couple could not hide their affection for one another as they indulged in PDA on the red carpet.
Craig, who is reprising his role as James Bond in the sequel, was accompanied by his wife of four-years at the Royal Albert Hall for the premiere on 26 October. As the couple prepared to meet royal guests of honour, the Duchess Of Cambridge, Prince William and Prince Harry, Weisz wrapped her arms around her husband's waist before discreetly holding his hand.
The 007 actor returned the favour, later grabbing Weisz's face in his hands and planting a kiss on her lips in full view of photographers and his co-stars, including Lea Seydoux, Monica Bellucci, Naomie Harris and Christoph Waltz. The PDA no doubt came as a surprise to onlookers given the couple have gone to great lengths to keep their relationship out of the spotlight. After secretly tying the knot in June 2011, the British actors have avoided flaunting their marriage and are rarely pictured together.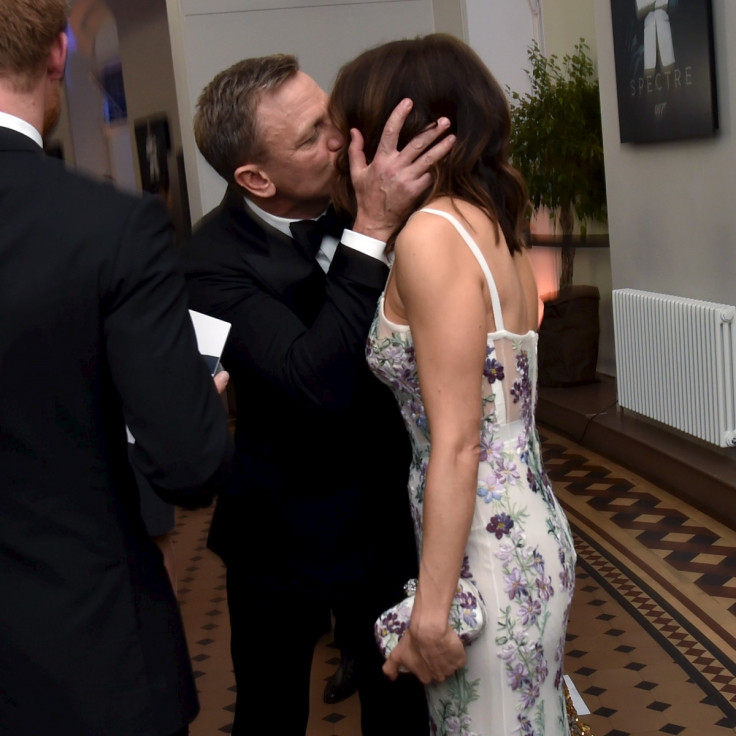 Body language expert Judi James has analysed pictures of the couple and suggests that while their affection is genuine, it may not have been as spur of the moment as it appears. James told the IBTimes UK: "If there is such a thing as a spontaneous body language display on the red carpet I have yet to see it. The place is like a photographic feeding-frenzy and so we should suspect Daniel had a certain message to signal via his non-verbal romantic and sexual appreciation rituals with his wife.
"Most actors perform their PDAs with their co-stars in a bid to work up some sexual chemistry that should make punters buy tickets to see more on screen. But by sticking to swapping kisses with Rachel, Daniel shows us that he is a proper actor and that his films will sell without any cheap tricks on the flirting front."
As Craig mingled with the royals on his big night, Weisz watched like the proud wife but, according to James, Craig's body language shows he was mindful of not leaving his spouse out. The expert explains: "He is also maintaining his wife's dignity and status as the red carpet can be a nightmare for any spouse who can swiftly end up playing second or third fiddle to their famous partner. Rachel's back-hugs suggest playful but emphatic ownership signals and the 'hidden' hand holding is a sweet version of the same message."
Spectre, directed by Sam Mendes, is out in UK cinemas now.