Liverpool manager Brendan Rodgers has revealed defender Jamie Carragher will play a significant role at Anfield before and after his retirement at the end of the season.
After making more than 700 appearances spanning across 16 years of unwavering service, Carragher confirmed his retirement at the end of the season in order to end speculation over his immediate future.
Carragher was due to be out of contract at the end of the season, but has instead called time on his career and Rodgers says Liverpool will wait until the end of the campaign to confirm the 35 year old's future involvement on Merseyside and to pay tribute to the long-serving central defender.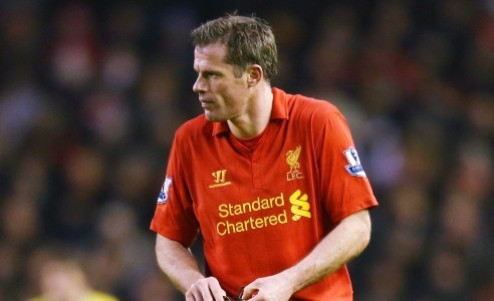 "Jamie has been absolutely outstanding for me since I joined the club," Rodgers said. "He has been a model professional on and off the pitch and has shown an unswerving commitment to our work.
"We still have a lot to play for as we look to finish as high up the Barclays Premier League as possible and continue our progression in the Europa League, a competition we'd like to win.
"He will have a significant role to play for us between now and May and I know his commitment and dedication on the pitch will remain as it has done his entire career at Liverpool.
"Jamie's focus is always on doing what is best for the team and he has said he doesn't want any distractions while there are still important matches to be played and won.
"But when the time is right we, as a team and a club, will give the man the tribute and recognition he deserves; I know the supporters will want to say thank you to someone who has served them with such distinction for so long."
Since making his Liverpool debut in January 1997 against Middlesbrough, Carragher has been an ever-present for The Reds, with eight league appearances separating him from the feat of having made 20 in 16 consecutive seasons.
Carragher initially retired from international football in 2007 but returned to the fold for the 2010 World Cup where he appeared in the games against USA and Algeria.
Liverpool managing director Ian Ayre has praised Carragher for wishing to end speculation over his future by announcing his retirement before the end of the season and shielding the club from subsequent questions regarding a new contract.
"It speaks volumes about Jamie's selfless nature that even the manner of this announcement is putting the team and the club before himself," said Ayre. "It's what he's done throughout his entire career.
"He told me he didn't want the manager or myself fending off questions regarding his future when he had already made his decision. Jamie's focus, like ours, is on finishing the season as strongly as possible.
"Everyone within the game knows that Jamie Carragher has been a colossal figure for Liverpool Football Club. You don't have a career spanning three decades at the very top of this game unless you are an exceptional player and what's more, he epitomises the values this club was built on and continues to stand for.
"In line with Jamie's wishes we will wait until the season concludes before giving him the true recognition he deserves. We will also wait until that time to comment further regarding what involvement he may have with the club going forward."