The dismembered body of a six-year-old Japanese girl has been found in plastic bags near her home in Kobe, on Honshu island.
DNA tests have confirmed the body parts belong to Mirei Ikuta, who went missing two weeks ago.
The body parts were distributed in five bags, which contained her head, upper torso and legs. Hyogo Prefectural Police are investigating the murder and a spokeperson told AFP that some body parts had not yet been found.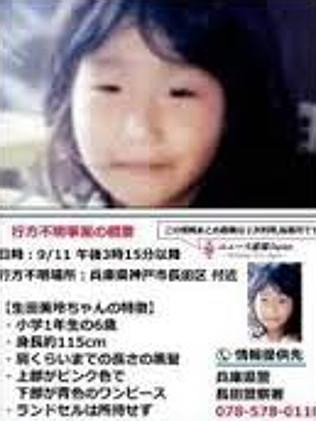 Clothes and sandals belonging to Mirei were also found at the site in the city's Nagata Ward, a wooded area just 150m from where the girl lived.
Police said the area was searched early last week.
According to Japan Today, the girl left school at around 2.45pm (local time) on 11 September and visited her grandmother who lived nearby, leaving her bag there. She then returned home.
Surveillance camera footage showed the girl walking alone past a nearby shop, holding an open umbrella, at around 3:15pm.
Mirei left home shortly afterwards, but her mother said she did not know why.
She was last seen walking alone away from the athletic grounds of a nearby high school, southeast of her home at around 5.30pm, according to witnesses, Au News reported. Her mother reported her missing in the evening.
No leads were discovered in the investigation until several foul-smelling bags were found in a bush near her home.
Officers have arrested a 47-year-old man, Yasuhiro Kimino, who lives near Mirei's home, in connection with her death.
It is not unusual for children to walk home alone from school in large cities in Japan, as crime is lower than in all other industrialised countries and violent crime is relatively rare.