A Scottish man is being kept in protective custody in Thailand after a photo he took could identify the murderer of British backpackers David Miller and Hannah Witheridge.
The man, believed to be tourist Sean McAnna from Lanarkshire, Scotland, claims he saw two Thai men trying to molest 23-year-old Witheridge before Miller intervened to stop the pair's advances hours before they were found murdered.
Miller, 24, from Jersey in the Channel Islands, and Witheridge, from Great Yarmouth in Norfolk, left the bar they were attending, but their bodies were found at 6.30am the next morning.
A police source told the Bangkok Post that even though the two men in the photo had been questioned over the murder, they did not provide DNA for analysis.
The man on the left has arroused suspiscion after matching the description of an Asian-looking man seen at about 4am on 15 September, walking the same route Miller and Witheridge had taken before they were bludgeoned to death with a hoe.
The same man returned about 50 minutes later, moving in a suspicious manner, Thai police said.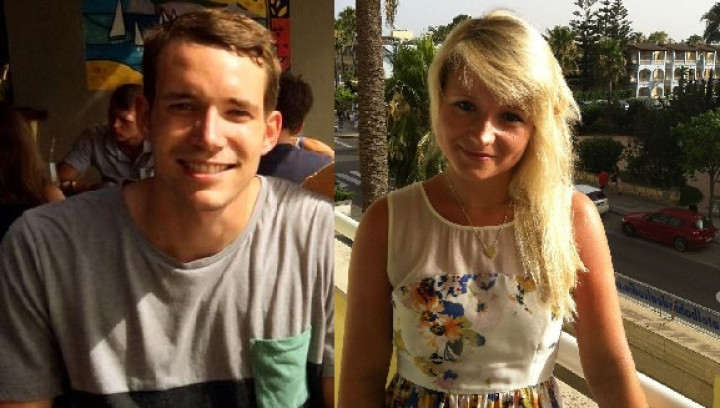 Before he was placed in police protection, McAnna claimed on Facebook that the "Thai Mafia" was trying to kill him.
He told the Daily Mirror that Thai men were trying to make him a "scapegoat" for the murder.
"They wouldn't have shot me, they would have taken me up into the hills to hang me and make it look like it was a suicide," the 25-year-old said.
"So I just ran. I just left and ran. I think they needed a scapegoat. I think they might know who it was."
In another twist, Scottish newspapert The Daily Record, reports that in 2013 McAnna pleaded guilty to possessing a cache of indecent images of children. He was ordered to complete 170 hours of unpaid work for the crime.
At least two murderers
It has also emerged that police are looking for at least two assailants for the murder of Miller and Witheridge after investigations revealed that a hoe and a wooden stick were used in the fatal attack.
Thai deputy police chief, Somyot Pumpanmuang, said results of the DNA tests of 30 men on Koh Tao did not match semen found at the crime scene or the DNA found on other strands of evidence.