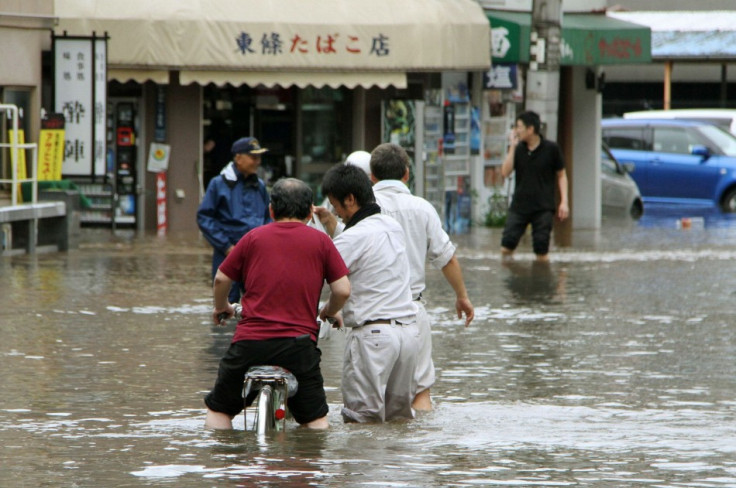 Rescue operations are in full swing in the flood-hit regions of Kyushu and other parts of south-west Japan even as more rain is forecast for some regions.
At least 26 people were killed and several others missing mainly in the Kumamoto, Oita and Fukuoka prefectures. According to reports, most of the casualties were elderly citizens in their 70's and 80's.
Hectic efforts are on to remove fallen trees and clearing up of mud and debris from houses. Roads and water supply in most parts of the region remain cut off by the unprecedented rain that started on Wednesday.
"We are stepping up efforts to remove rubble as roads remain covered with mud at many points," AFP quoted Masatatsu Minoda, an official from Kumamoto prefecture, as saying.
"Workers are engaged in clean-up efforts while taking care against possible further landslides. We may have to stop working if it rains heavily again," Minoda added.
Earlier, evacuation orders were in force asking nearly 400,000 people to leave their homes and seek refuge in schools and public places designated for the purpose.
Food and medical supplies were airlifted to the stranded people in the mountainous areas of Yame, Fukuoka prefecture, on Sunday. Nearly 5,000 people have been marooned by the mudslides and floods in southwest Japan.
"We will continue sending emergency ration to people there as it is still unknown when we can secure access to the area," Al-Jazeera quoted Kayo Shinohara, a spokeswoman for Yame City government, as saying.
According to the Japan Meteorological Agency, more heavy rain and thunderstorms are expected for some areas on Monday.
"A peak of heavy rain in northern Kyushu has passed, but there is fear that driving rain with thunder may hit northern Kyushu as warm and humid air is flowing to the rain front," said the agency.
"Please be vigilant of damage from landslides and floods as part of the ground has already softened and water is still overflowing from rivers because of record rainfalls," the agency added.