Japan in talks to provide Philippines with two coast guard ships to patrol South China Sea
Japan is expected to deliver the vessels next week as part of a deal on defence equipment.
Japan is said to be in a dialogue with the Philippines to provide Manila with two large coastguard ships to patrol the South China Sea. An official from Japan's foreign ministry has said this transfer is part of a bilateral deal on defence equipment.
Japanese Foreign Minister Fumio Kishida and Philippine President Rodrigo Duterte met on Thursday (11 August) and decided to transfer two new 90m (295ft) multi-role response vessels to Manila by next week.
The deal, which is thought to be worth Philippine pesos 8.8bn (£145.8, $188.52m), also includes 10 44-metre (144ft) mid-sized coastguard ships, Reuters reported.
"Both governments are looking into the possibility of getting two more vessels, this time the bigger ones," Masato Ohtaka, deputy spokesman of Japan's foreign ministry, told reporters in Manila. "We're in the middle of dialogue between the two sides, they are still discussing details and we need a little more time."
Meeting in southern Davao city in the Philippines, both the leaders spoke about how Tokyo could offer its support to Manila especially in matters concerning maritime security in the South China Sea, Ohtaka added.
Japan, which has no claims in the South China Sea, has evidently sided with the Philippines in the case, and has locked horns with China over small islets in the East China Sea.
China has warned of a "threat from the sea" while claiming a vast portion of the region in the South and has expanded its presence mainly in the Spratly Islands and Scarborough Shoals. The mineral-rich sea has $5tn worth of trade passing through it every year. Along with China, Vietnam, Malaysia, the Philippines, Taiwan and Brunei too have overlapping claims in the region.
Beijing's assertiveness has left many countries worried and angry in both the South and East China seas, where it has stepped up its constant presence of coastguard vessels.
"We are very concerned," Ohtaka said. He continued that development in the East waters could be similar to those in the South China Sea. "It's not getting better in the East China Sea," the spokesman added.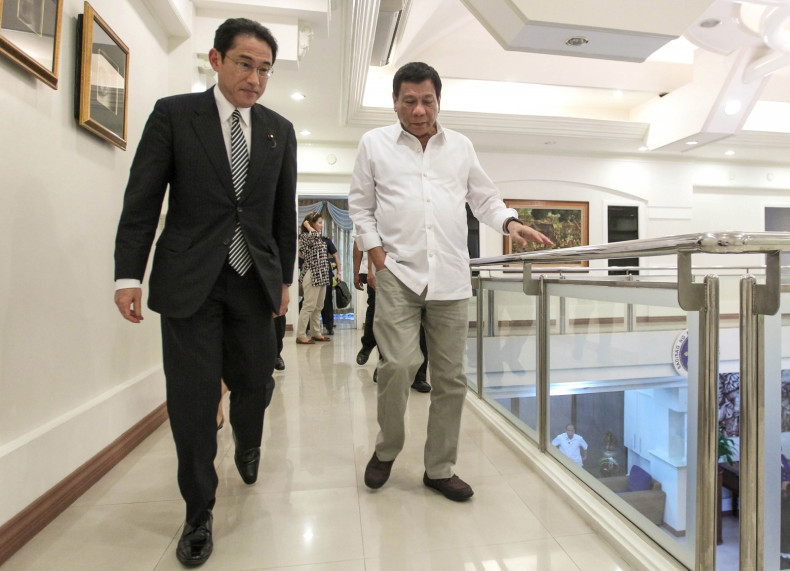 Japan and other countries including the US, Vietnam and the Philippines have been pushing to get China to adhere to international maritime law and to the arbitration ruling that went against Beijing. It has only prompted China to warn its enemies to stay off discussions on the subject during any meeting or from activities that it says could potentially bring harm to its national and maritime security.
On 6 August, Japan reported a flurry of Chinese coastguard ships, along with a fleet of fishing vessels, sailed closer to what it claims as its own territory — Senkaku islands — in the East China Sea. It lodged a new protest against China, which reportedly put up radar and surveillance facilities in the region.