Japan withdraws envoy after South Korea installs 'comfort women' statue outside consulate
Japan has also suspends talks with South Korea on foreign currency swap.
Japan has temporarily recalled its ambassador to South Korea as both the countries locked horns again over the 'comfort women' issue. Tokyo is protesting against Seoul's installation of a statue outside its consulate commemorating Korean women who were victims of Japanese wartime sex slavery during World War II.
The statue was installed on 28 December in the South Korean city of Busan. The two sides signed an agreement in 2015 to resolve the long-strained ties provided all conditions were met by Japan, including issuing an apology and a fund to support the victims.
Japan argued that the installation of the 'comfort women' statue was illegal as it violated the agreement.
The 1.5m (5ft) tall bronze statue depicts a young woman sitting in a chair barefoot.
Japan's Chief Cabinet Secretary Yoshihide Suga said the installation of the statue was "extremely regrettable" and announced recall of the ambassador.
"We have repeatedly asked South Korea to handle the resolution of this issue appropriately, but the situation has not improved, so we have taken this action," the BBC cited Suga as saying.
He also declared additional measures including postponing a high-level bilateral economic dialogue and suspension of talks on Japan-South Korea currency swap. South Korea's finance ministry, responding to the suspended talks, expressed regret.
In a statement, Japanese Prime Minister Shinzo Abe said it was crucial that both countries abide by the agreement. He added that South Korea's action was "not constructive".
The 'comfort women' statues issue has always been a matter of serious concern for Japan. The statue in Busan is thought to be not the only one in South Korea. A more famous one was erected in 2011 outside the Japanese embassy in Seoul to mark the 1000th rally by activists who were demanding an apology and compensation.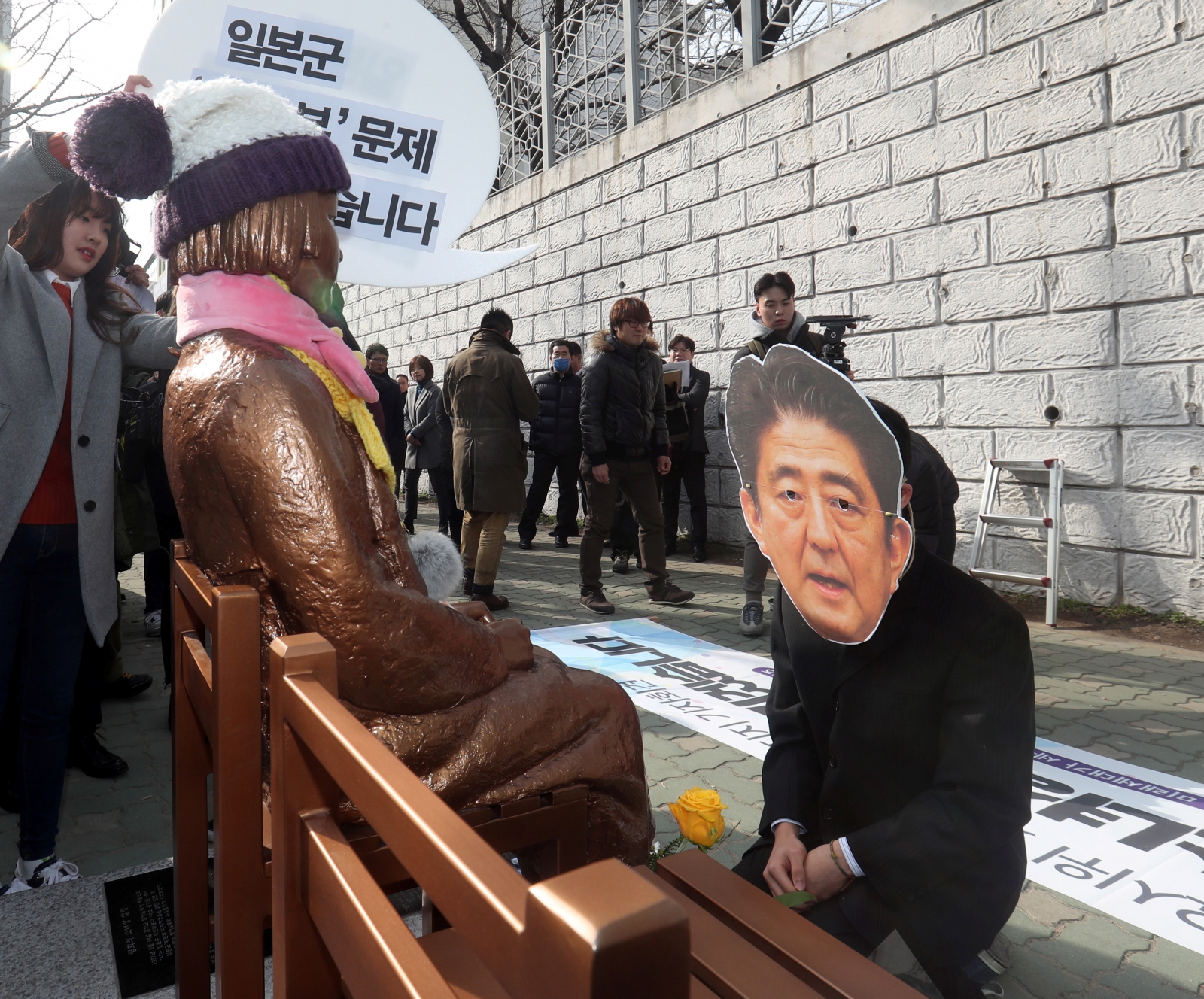 It is reported that there are 37 other such statues in the whole of South Korea, and a similar one in Australia too, according to the BBC.
The Busan statue was initially removed by the police but within days, due to pressure from local activists, it was reinstalled, the Korea Herald reported.
The statues apparently act as a symbol of injustice faced by Korean comfort women.
© Copyright IBTimes 2023. All rights reserved.