A deal between Japan and South Korea over reparations to women forced into sexual slavery for the Japan military during World War II continues to face strong opposition, a year after it was signed.
Hundreds of protesters gathered around a statue of a girl representing South Korean sexual slavery victims near the Japanese embassy building in Seoul, a symbolic location as Japan wants the memorial removed on 28 December. In Busan, protesters set up a similar statue in front of the Japanese Consulate, which the police had to remove with a forklift as protesters staged a sit-in to defend the memorial.
The protest was organised by the Korean Council for Women Drafted for Sexual Slavery by Japan, a civic group supporting former victims. They want to scrap the agreement, in which Japan would pay ¥1bn ($9.9m, £7.4m) to a foundation dedicated to the former sex slaves, also known as "comfort women". In exchange, South Korea promised it would no longer criticise Japan on the issue.
The deal was also seen as milestone in mending Japan-South Korea ties, strained by the memory of Japanese colonial rule in the first half of the 20th century. The agreement was supposed to resolve the comfort women issue "finally and irreversibly," but opposition lawmakers in South Korea are renewing efforts to nullify it as they think the country settled for too little.
South Korea's opposition politicians see the scandal engulfing President Park Geun-hye and her administration as an opportunity to undo some of her most controversial policies. Leaders of the main opposition party promised to invalidate the agreement if the party won the next presidential elections.
Japanese prime minister Shinzo Abe issued a formal apology over the comfort women in December 2015, but did not admit legal responsibility, which South Korean opposition politicians demand. South Koreans were also angered at the Japanese defence minister visit of a war shrine in Tokyo commemorating soldiers accused of war crimes in the name of the Japanese empire.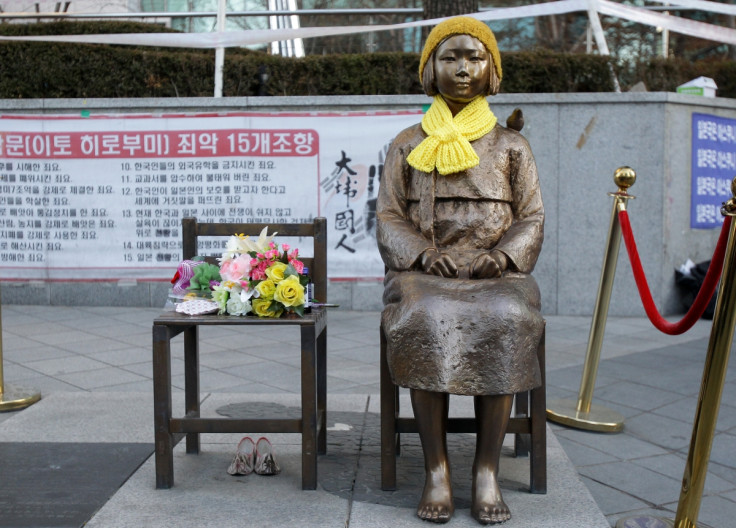 In August, South Korean women marked the 25th anniversary since former comfort women Kim Hak-sun became the first to testify about the plight of young women and girls who were forced into sexual slavery by the Japanese military, in what has been recognised as one of the biggest cases of human trafficking in the 20th century. Some of the survivors spoke of their traumatic experiences.
In 1937, 13-year-old Gil Won-ok was drafted against her will as a military sex slave. She caught syphilis and developed tumours. A Japanese military doctor removed her uterus, leaving her unable to have children. Now 89 years old, Gil lives at Woorijip, a comfort women survivors' shelter in Seoul.
Kim Bok-dong also lives in Woorijip. She was taken in 1941, when she was 15. She described how a Japanese police officer and soldiers arrived at her rural home, and demanded she come with them to work at a garment factory. "My mother protested: 'She is so little, what can she do?' But they said I could learn, so it should be all right, which is how I ended up going, thinking it'd be just for a few days." Kim was held at military brothels in southern China, Indonesia and Singapore and was gone for seven years.
According to South Korean officials, there are currently 46 surviving victims and around 199 who have died.
Who were the "comfort women"?
Over 200,000 women were enslaved by the Japanese Imperial Military in occupied territories from the early 1930s to the end of the Second World War. The majority of them were teenagers, many as young as 12. The women enslaved were Korean, Chinese, Taiwanese, Malaysian, Indonesian, Dutch, East Timorese and Japanese. Amnesty International say women from Thailand, Vietnam, Burma and the United States were also enslaved.
Women who lived under the Imperial Japanese rule, responded to "work placements", apparently available in factories, hospitals and restaurants, unaware that they were being trafficked into sexual slavery. Once "recruited", they were transferred to comfort stations in both their nation and overseas. Many young girls were sold off by desperate parents, while other reports, revealed decades later, state that some were abducted from their homes.