Japanese Prime Minister Shinzo Abe has condemned North Korea's test firing of a ballistic missile towards Japan as "absolutely intolerable".
The launch, held at 7.55am local time (10.55pm GMT) on Sunday (12 February), was the Communist nation's first missile test since Donald Trump became US President.
It occurred while he was enjoying a day of golf with Abe at his private Mar-a-Lago estate in Palm Beach, Florida.
"North Korea's most recent missile launch is absolutely intolerable," said Abe, as quoted by the Associated Press.
The PM committed additional collaboration between Japan and the US in order to defend against threats from the Communist nation and ordered North Korea to comply with UN Security Council resolutions.
"President Trump and I myself completely share the view that we are going to promote further cooperation between the two nations," said Abe. "And also we are going to further reinforce our alliance."
Two keen golfers, Trump and Abe had been looking to strengthen relations between the two countries in a pleasant holiday atmosphere.
However, the recent developments provided a shocking wake-up call. Trump immediately offered his support for Japan, telling reporters, "The United States of America stands behind Japan, its great ally, 100%."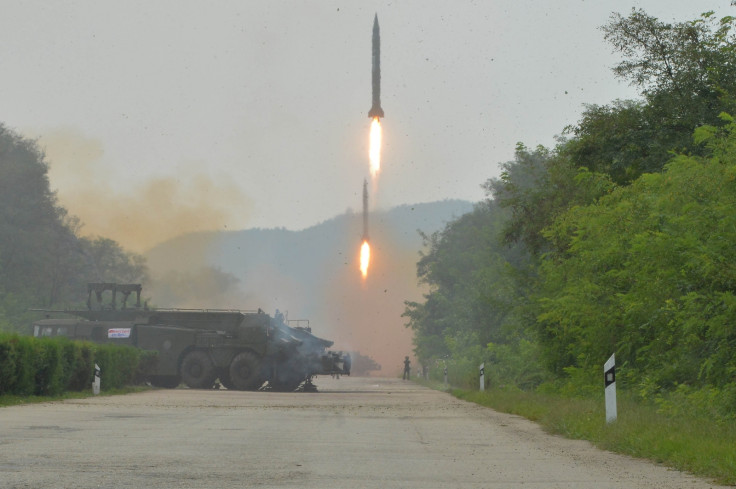 North Korea engages in regular nuclear missile tests, believed to be political statements and demonstrations of power. According to Reuters, the country's leader Kim Jong-Un announced on New Year's Day that they had reached the final stages of preparation to test an Intercontinental Ballistic Missile (ICBM), which is capable of travelling longer distances.
The recent projectile used by North Korea did not reach Japan's economic zone, but travelled for around 500km (300 miles). An ICBM is capable of reaching a minimum distance of 5,500km (3,400mi). The air travel distance between North Korea and Japan is approximately 1,045km (649 miles).
The Japanese government chimed in with criticism aimed at North Korea. Chief Cabinet Secretary Yoshihide Suga told Japan Times the test was "a violation" of UN protocol.
"The ballistic missile launch is an extremely problematic act from the viewpoint of securing the safety of aircraft and ships and it is an obvious violation of UN Security Council resolutions," said Suga.