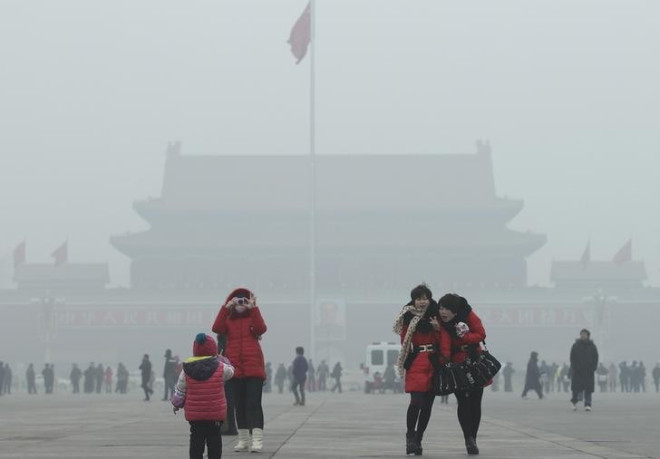 Japanese electronics firm Panasonic said it will pay a wage premium to its employees working in China in order to compensate them for suffering the pollution in the country.
Panasonic is believed to be the first company to announce a premium to compensate for polluted air.
"As for the premium for expatriates to compensate for a different living environment, the company will have a special review for those sent to Chinese cities," a company document said.
The company refused to say about the amount of premium or the number of Japanese staff based in China. Panasonic employs about 70,000 people in China, according to Associated Press.
The premium is not applicable for locally-hired staff.
The document was drafted for Japan's annual labour talks, in which major companies such as Panasonic and Toyota agreed on a wider deal to boost workers' salaries after many years.
As part of the deal, Panasonic said it would increase base pay for all of its workers by 2,000 yen ($19.5, £11.7, €14).
The salary boost for employees comes amid concerns about an economic slowdown in line with the country's planned sales tax hike in April.
Japan's Prime Minister Shinzo Abe had earlier pressurised Japanese firms to raise wages in an effort to combat deflation and boost the Japanese economy. Most of Japanese exporters have recently benefitted from the slide in the Japanese yen against the US dollar.
China's Pollution Problem
Employees have been reluctant to move to China due to country's higher pollution rates.
Pollution monitors in Beijing said last month that particulate readings increased to 15 times the daily maximum recommended by the World Health Organisation (WHO).
In his opening remarks at the National People's Congress earlier this year, Chinese Premier Li Keqiang said: "We will declare war against pollution and fight it with the same determination we battled poverty."
The country's rapid industrialisation has helped grow its economy, but it has been suffering from serious environmental consequences, including smog, land laden with heavy metals, and chemically contaminated waterways.
Industries' reliance on coal power, increasing car emissions and widespread urban construction are blamed for the pollution problem.