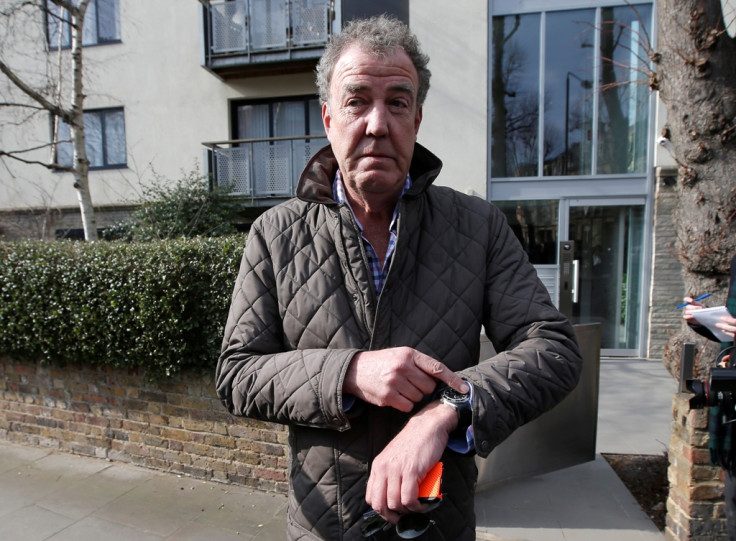 Jeremy Clarkson has hinted he may be ready to leave Top Gear after being suspended by the BBC.
The 54-year-old TV presenter was suspended after allegedly punching producer Oisin Tymon in a dispute about his dinner following a day's filming in Newcastle. Clarkson is due to appear before a BBC disciplinary panel in connection with the latest in a string of controversies.
Writing in his column for the Sun newspaper he likened himself to an extinct dinosaur, adding that "the day must come when you wave goodbye to the big monsters".
He wrote: "Nature made a mistake when it invented the dinosaur. It was too big, too violent... All the dinosaurs died and now, years later, no-one mourns their passing. These big, imposing creatures have no place in a world which has moved on."
Commenting on a petition that called for the TV personality to be reinstated which has so far garnered 840,000 signatures, Clarkson wrote: "You can start as many campaigns as you like and call on the support of politicians from all sides, but the day must come when you have to wave goodbye to the big monsters, and move on. We lose one animal and get another. The world turns."
Alluding directly to the incident that has lead to his suspension and the subsequent support from fans, he added: "As you may have heard, I've been suspended by the BBC following a fracas at a North Yorkshire hotel. I don't intend to dwell here on what happened then or what will happen in the future. I'm sure you're as fed up with the story as I am. One of the things which has cheered me is how many people have expressed support in the last few days. I'm touched and grateful."
Clarkson's fate will be decided by a BBC disciplinary panel chaired by Ken MacQuarrie, the head of BBC Scotland who conducted the investigation into Newsnight's false expose of Lord McAlpine.
The corporation has not revealed when or where the hearing will take place.
It has been reported that the 54-year-old launched into a 30-minute, expletive-laden rant and threatened the producer that he would be fired because he was unable to order a steak at the Simonstone Hall Hotel near Hawes, North Yorkshire, where the production team were staying.
According to the MailOnline, Mr Tymon is now in hiding after being subjected to vile online threats on his Facebook, Twitter and BBC email accounts since the incident.
Clarkson has also changed his Twitter profile to reflect his precarious employment status. While earlier it read: "I am a presenter on the BBC2 motoring show, Top Gear" it since been changed stating that he was "probably"' the presenter of Top Gear. Asked if he feared the sack he said: "Well it's coming, isn't it?"