Jeremy Clarkson sent his Twitter followers into overdrive after stating he had a car crash whilst filming his new show. The former Top Gear host wrote that he "had a bit of an accident while filming today" in a tweet, causing concern amongst his 6.3 million followers. It was apparently a ruse. It's not like Clarkson to create controversy…
Or is it? IBTimesUK earlier reported on the crash where Clarkson tweeted a snap of the crumpled car, and fans rallied round the TV host to check on his safety soon after. One wrote: "The only thing that matters; are you okay?" whilst another simply put: "Everyone safe?" It appears he escaped with his fingers intact, so it doesn't seem too bad.
This isn't the first time Clarkson has causes a ruckus on the social networking site, however, so allow us to give you an insight into his past dalliances with drama.
1. The 55-year-old caused outrage after sharing a picture of oxygen masks on a plane shortly after the Malaysia Airlines flight MH370 had gone missing and likely crashed into the Indian Ocean leaving no survivors in March 2014.
Posting a picture of the emergency oxygen masks to his official Twitter page, along with the caption: "The oxygen masks have deployed. Goodbye everyone," his joke didn't exactly fly high in the opinions of his usually dedicated devotees.
2. As far as celebrity Twitter spats go, Clarkson has had his fair share in stirring the pot – or basically chucking the contents of the pot in someone else's face. So it wasn't too much of a surprise when he made an arch enemy in Piers Morgan back in 2013 for writing this...
Now that's not what we call playing nice.
3. In June 2015, Clarkson was accused of being homophobic after tweeting a repugnant joke about being sacked by the BBC. Posting a photo of himself and Richard Hammond outside the Margaret River Fudge Factory in Australia, he wrote: "We have got jobs at last. Here. As packers."
Nodding to a phrase commonly considered a slur used to describe gay men, Clarkson found himself in the doghouse with the online world (and whole entire world) yet again. Doh.
4. As we're all acquainted with the TV host's tempestuous and outspoken nature, it's not unlike him to unleash a foul-mouthed Twitter rant at something or other every now and then.
In February 2015, the fiery grey-haired car lover aimed his wrath towards a Liverpool paper after it attacked him for apparently criticising the city. He went on to say...
Oh dear.
5. Most recently, in January this year, Clarkson came under fire for his newspaper column in The Sunday Times, dismissing transgender issues and thus creating, lo and behold, another Twitter storm.
His column reads: "[The media] have decided that we must now all turn our attention to the plight of people who want to change their name from Stan to Loretta.
"As far as I was concerned, men who want to be women were only really to be found on the internet or in the seedier bits of Bangkok. They were called ladyboys, and in my mind they were nothing more than the punchline in a stag night anecdote."
Although he didn't tweet directly on the matter, he received serious backlash from his views, including a number of infuriated replies from Paris Lee. See as follows...
Clarkson has since been eschewing touchy subjects on his Twitter profile, most recently sharing snippets of his idyllic time in Barbados with pals has he films his new show for Amazon Prime.
The show will debut this autumn and will be available to those who have signed up to Amazon's £79-per-year Prime streaming service, which includes free next-day delivery of items bought on Amazon. Not too shabby. Top Gear viewers will find the format rather familiar, with a mix of studio-based banter and international escapades.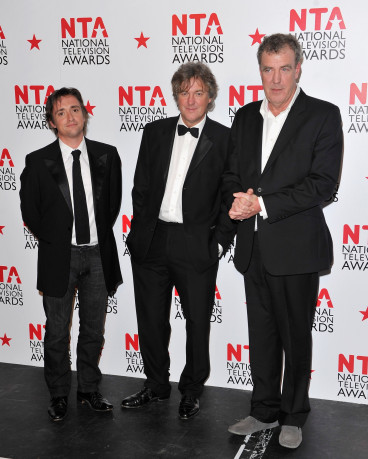 Andy Wilman, Top Gear's former executive producer, has also made the move over to Amazon to work on the show and said that the three presenters would have "more time to yak" and their friendship would be the central element. We're in for a treat.
He quipped: "You can't reinvent the sideways, Last of the Summer Wine-type relationship they have because that is outside of television, that is theirs," he said. "But there will be a new look, new elements, new home," reports the TV industry weekly, Broadcast.
The first episode will open with the friendly trio comparing three of the latest hybrid hypercars: the Ferrari LaFerrari, McLaren P1 and Porsche 918 Spyder. Let's hope he steers it in the right direction this time.