A video has emerged showing an Israeli settler defiling the body of a dying Palestinian with pork meat, in a moment symbolic of the frenzied hatred currently fuelling a new wave of violence in the region.
In footage posted on social media, a man is seen approaching paramedics treating a Palestinian who was shot by security forces after stabbing an Israeli border police officer in the settlement of Kiryat Arba, near Hebron.
The man, said to be an Israeli from the settlement, waves what he claims to be slices of a pork product and then places them on the face and body of the injured assailant, who is being carried away on stretcher. The Palestinian later died of his wounds.
The act was praised by right-wing activist Itamar Ben Gvir, who told the Walla news site that the settler should be rewarded. "If this could prevent terror attacks, then we are definitely talking about the idea of the year," he was quoted as saying.
Both Islamic and Jewish traditions consider pork meat impure and Muslims and Jews alike are strictly forbidden to eat it.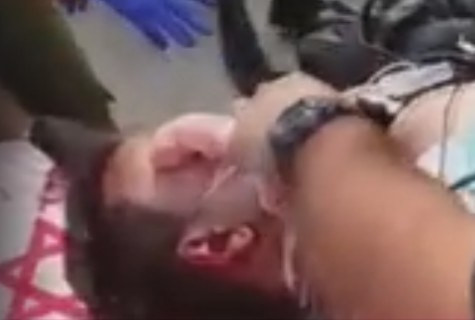 Last week, in another incident underscoring the depths to which the animosity between Jewish Israelis and Palestinian Arabs had sunk, the Israeli victim of a knife attack in Jerusalem described how onlookers spat on her instead of rushing to her aid after she was wounded.
On 3 October, Adele Benita, 22, was stabbed at the neck by 19-year-old Palestinian law student Muhanad Halabi near the Lion's Gate in Jerusalem's Old City. Her husband Aharon was killed, along with Rabbi Nehemia Lavi, in the same attack. Adele later said that as she lay bleeding in the street she was abused by bystanders.
"I screamed, I begged for aid," the 22-year-old mother of two told the New York Times from her hospital bed. "They stood chatting and laughing — they spat at me".
Meanwhile, three more stabbing attacks were reported in Jerusalem on 12 October. Two Israelis were stabbed and wounded by Palestinians in the Pisgat Zeev settlement in east Jerusalem. One of the attackers was subsequently shot dead, the other injured.
Elsewhere in Jerusalem, a knife-waving assailant was killed after he attempted to stab a police officer who escaped unhurt, and, separately, a Palestinian woman was shot and injured by an officer she had attacked. Some 25 Palestinians and 5 Israelis have been killed over the last few weeks since the latest spate of violence began.