Jerusalem Synagogue Attack: Hamas Calls for More Violence in Retaliation to Bus Driver's Death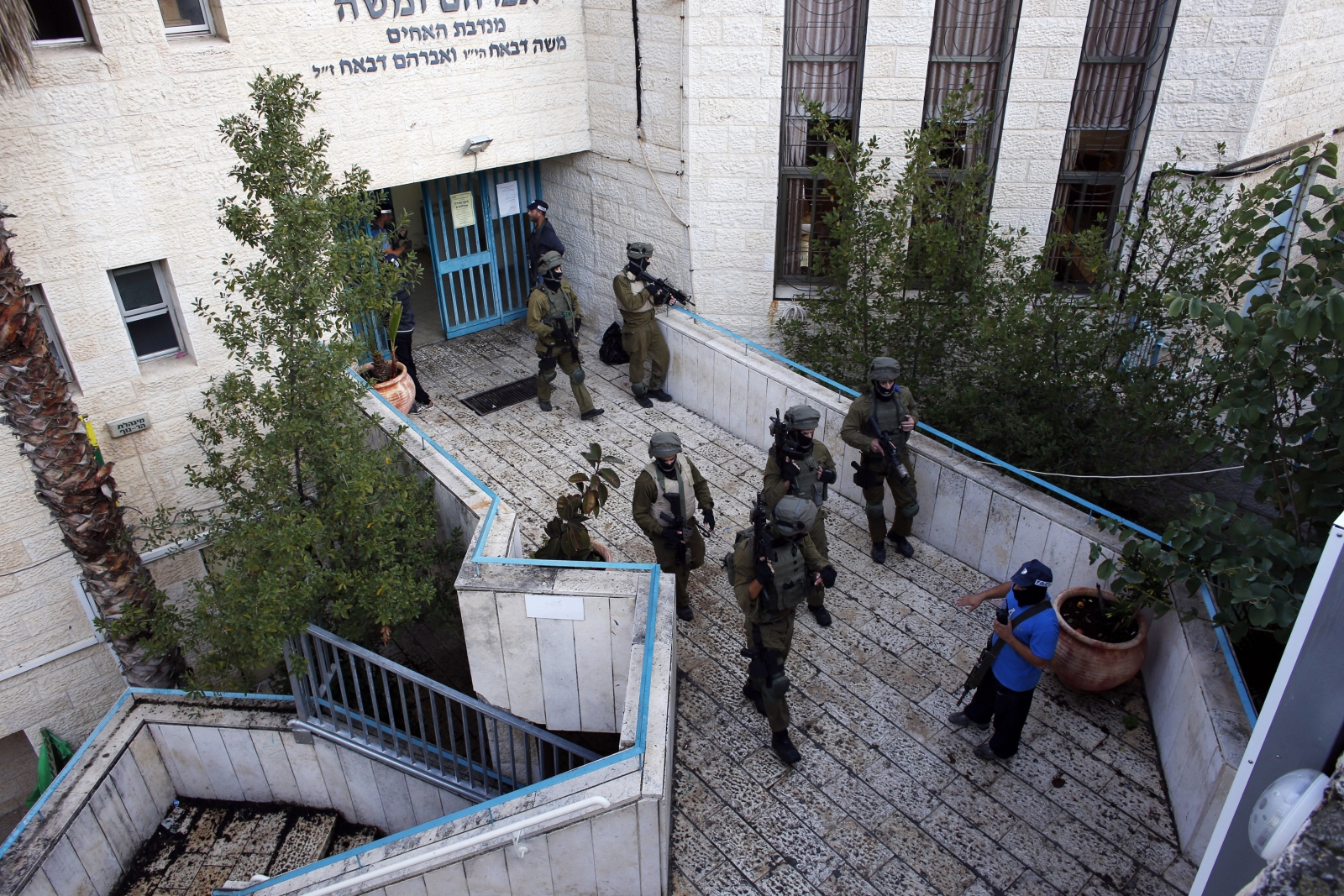 Hamas officials have hailed a deadly attack at a Jerusalem Synagogue, claiming it was in retaliation for the death of a bus driver who was found hanged in controversial circumstances earlier this week.
Two Palestinians armed with knives, axes and guns attacked worshippers praying inside a synagogue in Jerusalem's ultra-Orthodox Har Nof neighbourhood, killing four.
The assailants were subsequently shot dead in a gunfight with security forces that rushed at the scene. Two police officers and six other people were injured.
Hamas spokesman Sami Abu Zuhri wrote on Facebook that the raid was in retaliation for the death Yusuf Hassan al-Ramouni, a 32-year-old bus driver whose death sparked clashes in east Jerusalem amid unconfirmed claims he was killed by Israeli settlers.
"Jerusalem attack is a reaction to the execution of the martyr al-Ramouni and the ongoing Israeli crimes at al-Aqsa," Hamas Spokesman Sami Abu Zuhri wrote on Facebook. "Hamas calls for the continuation of acts of revenge".
Al-Ramouni was found hanged inside his vehicle from a thin cord at the beginning of his route in a district close to both Jewish settlements and Palestinian neighbourhoods.
Israeli police said an autopsy carried out at the presence of a Palestinian pathologist chosen by the family confirmed it was a suicide.
Nevertheless al-Ramouni family claimed he was killed, with Palestinian media quoting witnesses as saying the father of two was lynched by Jewish settlers.
Police have confirmed that the synagogue attackers were Palestinians from east Jerusalem, with media reports identifying them as Rassan and Uday Abu-Jamal, two cousins from the Jabel Mukaber neighbourhood.
Wounded worshippers described the frantic moments when the two knife-wielding men entered the religious site.
"I tried to escape. The man with the knife approached me. There was a chair and table between us ... my prayer shawl got caught. I left it there and escaped," said Yossi, who was praying at the synagogue at the time of the attack, to Israeli Channel 2 TV.
Israel Defence Forces spokesman Peter Lerner tweeted graphic images from the crime scene, including that of a bloodied butcher's knife allegedly used by the assailants.
Prime Minister Benjamin Netanyahu said Israel will "respond harshly" calling the incident "cruel murder of Jews who came to pray and were killed by despicable murderers."
The attack was the deadliest in Jerusalem in years and comes amid heightened tensions in the Holy City.
Jerusalem has experienced almost daily episodes of unrest since the abduction and killing of three Jewish teenagers in the West Bank in July, which was followed by the retaliatory murder of a Palestinian boy who was burned alive.
Unrest in the holy city has been exacerbated by developments regarding the Temple Mount, or Al-Aqsa compound, which has witnessed clashes after proposals to enhance Jewish access to the flashpoint site, where they are currently banned from praying.
Tensions have continued to rise in the Israeli capital following an attempted assassination of a far-right Jewish activist, a series of Palestinian stabbing attacks against Israelis and protests by Arab-Israelis which led to a 24-hour general strike.
Recently, Israeli Housing Minister Uri Ariel said that Israel will eventually replace Al-Aqsa Mosque with a Jewish temple, despite the compound being the third-holiest site in Islam.
© Copyright IBTimes 2023. All rights reserved.