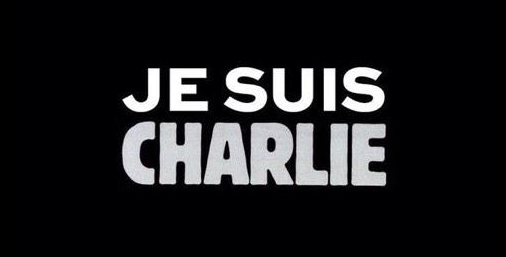 The Frenchmen behind the hashtag #JeSuisCharlie that went viral following the Charlie Hebdo Paris attacks, is now seeking legal means to prevent the commercialization of the slogan.
Speaking to AFP News, Joachim Roncin, 39, the graphic designer who coined the #JeSuisCharlie slogan said: "Frankly I'm really hurt by everything that has happened with people wanting to make money out of it.
"Especially because it profoundly devalues the meaning of the slogan. At the moment I'm working with lawyers to fight this as much as possible, to ensure that objects derived from this slogan only serve the purpose of furthering freedom of expression."
Speaking on behalf of her client, lawyer Myriam Sebban explained that Roncin "will rely on his copyright to try and control the use of the slogan and keep the initial message intact."
Sebban further added that Roncin is not intending on making any profit from the use of the slogan.
The #JeSuisCharlie logo, the words written in white and grey on a black background, is being sold across everything from T-shirts and stickers to mugs, badges and hats by moneymakers seeking a profit.
Several websites, including Amazon's French site, Amazon.fr, have pledged to donate all proceeds from their share of commissions on the Charlie Hebdo sales.
"Amazon.fr will transfer commissions that would be received on the sale of products proposed on its marketplace by third-party merchants using 'Je Suis Charlie' to Charlie Hebdo magazine," Amazon.fr said, reported AFP News.
Copies of the Charlie Hebdo survivors' issue are also being sold on eBay for over £5,000.