Jihadi John is a "disgrace" and "should be shot". Those are the words of a west London resident who lived opposite the world's most notorious terrorist before he joined the ranks of the so-called Islamic State (Isis) in Syria.
Reports by the Washington Post claimed John - apparently named after Beatle John Lennon - was in fact Mohammed Emwazi, a 27-year-old former Westminster University student turned IS murderer who once lived at Lancefield Street, Kilburn.
Jean Singh, 79, has lived at Longhurst House for almost 40 years and told IBTimes UK Jihadi John, whoever he was, should be killed.
"How do I feel about him? He should be shot. He is a disgrace," she said. "The family keep themselves to themselves, they are private, like a lot of families here. There is not much communication any more.
"I have lived her since 1977 and have seen how things have changed. It's not the same any more. People don't talk like they used to.
"Maybe if people communicated better we might have found out about him, I don't know. From my experience, Muslims keep themselves to themselves."
He had graduated from the University of Westminster with a degree in computer programming but fled to Syria in 2012.
British security services have reportedly known Jihadi John's identity for some time but it was suppressed for "operational reasons".
After crossing into war-torn Syria, Kuwaiti-born Jihadi John became the macabre poster boy for IS.
He has appeared in propaganda video footage killing British aid workers Alan Henning and David Haines, US journalists James Foley and Steven Sotloff, Japanese reporter Kenji Goto and Syrian soldiers.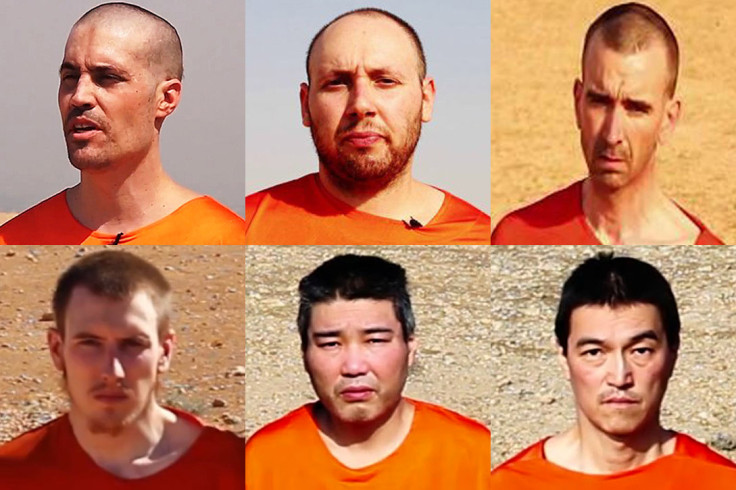 The home has a children's play area directly outside it and a nursery metres along Lancefield Street.
Outside his reputed former home a media scrum formed, with some residents stopping to discuss developments while others looked on from balconies of nearby flats.
One, speaking on condition of anonymity, said she was not surprised the IS executioner could have lived around the corner from her.
"When I saw the police and the camera I just thought 'John'," the council worker said.
"I don't know him but I am not surprised he might have lived there. People might have said it is quiet around here but it isn't. There have been gangs here before.
"But if it wasn't safe people would not live here. Who want's to be scared to leave their own front door."
Some residents IBTimes UK approached simply shrugged their shoulders, with one man commenting"that's London" and another saying "it happens".
The Metropolitan Police has so far refused to confirmed if the terrorist ringleader used to live at the address.
Commander Richard Walton of the Met's Counter Terrorism Command said: "We are not going to confirm the identity of anyone at this stage or give an update on the progress of this live counter-terrorism investigation."