The man suspected of being behind a gruesome Islamic State (Isis?Daesh) video in which five "British spies" were executed told a film-maker two years ago "the black flag of Islam" could one day fly above 10 Downing Street.
Siddhartha Dhar, also known as Abu Rumaysah, left his home in London to join IS in 2014 while out on bail. The former bouncy castle salesman, from Walthamstow, had been arrested a number of times on suspicion of encouraging terrorism, but still managed to travel to Syria.
The 32-year-old is now the subject of Channel 4 documentary The Jihadis Next Door in which previously unseen footage shows him declaring only Muslims should rule the UK and giving a chilling warning that "carnage" would be inflicted on the British public. The programme, to be broadcast on 19 January, also features fellow Islamist preachers, currently in the UK, laughing while watching IS death videos.
Rumaysah, a father-of-four, was filmed in January 2014 holding black flags in his garage and talking to documentary-maker Jamie Roberts.
"These are the black flags of Islam. This one's actually the flag of the Islamic State, so one day when the Sharia comes, you will see this black flag everywhere," he says in the footage.
Dhar, a Hindu convert who grew up in Palmers Green, then tells Roberts there is a "very real possibility" the black Isis flag would one day fly over 10 Downing Street because of "the way Muslims are coming forward in this country".
He adds: "We don't believe in sovereignty for the Queen, we don't believe that authority should be in the hands of the non-Muslims. The public in this country are living in ignorance. Their country is involved in war.
"And if they choose to remain silent and have this indifferent approach, then it is not going to help them. One man died, in Woolwich, Lee Rigby, and the whole country went up in uproar, there are many Lee Rigbys in Muslim countries.
"And if these issues aren't addressed we can expect more carnage in this country and more cycles of violence."
The documentary comes weeks after a video clip was posted online by IS showing the gruesome execution of five men. The footage shows a man with his face covered, believed to be Dhar, holding a gun and launching into a tirade against British Prime Minister David Cameron and UK air strikes against IS targets. Five kneeling men, said by the IS members to be "British spies", are then executed.
When the footage first emerged, Roberts said he received a text from another Islamist activist he had filmed, Mohammed Shamsuddin, which had a link to the video and a message saying: "You may know the voice."
Roberts said: "The voice instantly gave me chills. He has lost weight and it may not be him, but I felt like I recognised his voice."
---
Siddhartha Dhar: Who is the 'new Jihadi John' who executed 'British spies' in Isis video?
---
His documentary is the culmination of two years filming a group of Islamist extremists in London. Roberts described Dhar as one of the "dullest and most one-dimensional" of his subjects, saying he found it difficult to comprehend the transformation to one of the world's most wanted men.
He charts part of this journey starting when Dhar was running his London business renting out bouncy castles for children's parties. Preaching on the streets of the UK at the same time, he was held by UK police in September 2014 as part of an investigation into alleged support of banned extremist group al-Muhajiroun.
But he left Britain with his family the day after being released on bail, travelling to Paris and then Syria.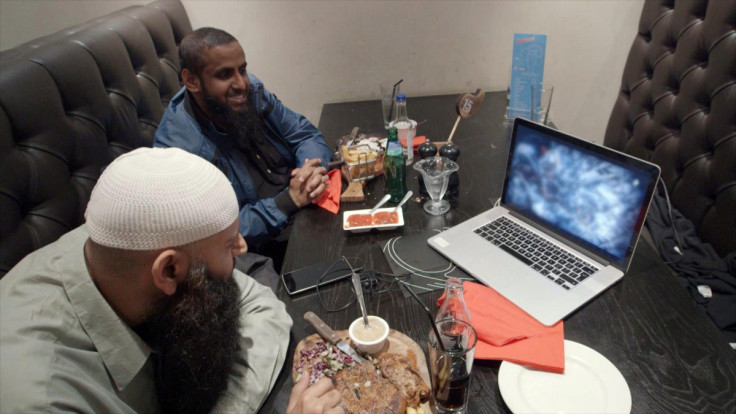 Another Islamist preacher to feature in the documentary, London bus driver Abu Haleema, hails Dhar as a hero after he left for IS, telling Roberts: "The day when we got arrested, in September, I saw him at the police station, and after that I never saw him again. The whole time he was in the cell he was just reciting the Koran.
"His legacy still lives on to now, you know, his material is still the best material you can get, you can't compare to it, the guy was just turbo-charged, always on the go."
Haleema and Shamsuddin, who now front the Islamist group formerly led by Dhar, are seen in the documentary laughing in a London restaurant while watching an IS murder video.
"The guy is foaming at his mouth, you know what I mean. Wow. And I'm eating," Shamsuddin says while chuckling. Haleema adds: "That's a HD quality bruv, 4k."
The pair also speak of recruiting fellow British Muslims to their cause through "brainwashing".
The Jihadis Next Door will be broadcast on Channel 4, at 9pm, on 19 January.