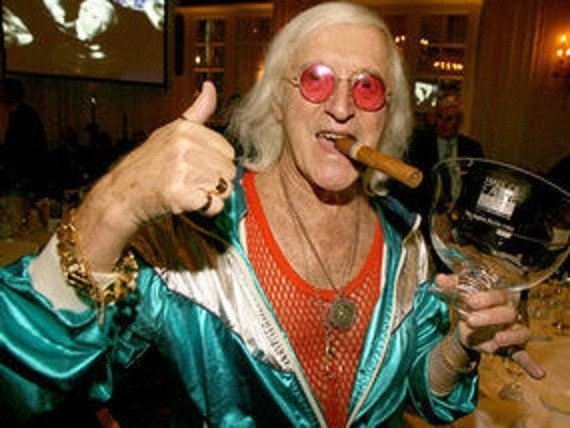 The disgraced British disc jockey and TV star Jimmy Savile could yet cost his former employers, including the BBC and the British government, millions of pounds in compensation, says a top lawyer.
Savile, who died last year at the age of 84, was one of Britain's most popular TV and radio stars. In recent weeks, it has emerged that he was also a serial child abuser, taking advantage of his celebrity status to molest young women and underage girls. So far, 340 separate lines of inquiry are being investigated by police.
In a report published in the Daily Mail, personal injury lawyer Liz Dux is quoted as saying that his victims may have grounds to sue the BBC. "'If Savile was acting as an employee or agent of the BBC or a health organisation, then that organisation with whom he had a close connection can be held vicariously liable," she told the paper. Another lawyer, Jonathan Bridge, a partner at Farleys Solicitor, told The Sun: "It depends on the severity of the abuse. You are looking at a potential cost of millions."
Savile's posthumous disgrace has prompted a wave of soul-searching across the UK.
"Jimmy Savile groomed a whole nation," newspaper columnist Deborah Orr said recently on BBC2's Newsnight, reflecting concern that many of the organisations that Savile was associated with during his lifetime, including charities and hospitals, may have turned a blind eye to his illegal behaviour because of his many good deeds.
The UK Department of Health (DoH) has already announced an investigation into Savile's role at the Broadmoor psychiatric hospital in Berkshire, where Savile was appointed head of a taskforce to oversee the hospital.
"In hindsight he should very obviously not have been appointed. Had anyone involved in the appointment been aware of allegations of abuse against Savile, we would not have expected him to have been appointed," a DoH spokesman told the BBC.
It has been alleged by The Sun that Savile took advantage of his position at the hospital to abuse a 17-year-old patient. If proven, the allegations potentially open up the UK government to legal action, claims The Guardian.
Elsewhere, the mountains of awards and honours that Savile accrued during his lifetime are being rescinded.
The University of Bedfordshire has stripped Savile of an honorary degree it awarded him in 2009, Leeds Jewish Welfare Board has removed a plaque in his honour from its headquarters, and his name has been removed from the Great North Run Hall of Fame. Savile ran more than 200 marathons for many charities.
The children's charity Variety, which was one of the recipients of his generosity, has announced it is launching an investigation into claims that Savile used his connection with the charity to prey on children in its care, according to the Daily Telegraph.