Jimmy Savile was asked to front West Yorkshire Police (WYP) crime prevention campaigns despite an awareness of sex abuse allegations and rumours among officers he was a "pervert".
An internal report into West Yorkshire Police's relationship with the former Jim'll Fix It presenter showed that police were still asking him to promote campaigns in 2008 despite receiving warnings from Surrey Police that he could be a sex offender.
The report also showed how senior officers regularly attended a 'Friday Morning Club' at Savile's Leeds flat, including four who attended frequently over a number of years.
However, the report stated there was no evidence to suggest that police shielded Savile from prosecution while he was alive. It did, however, maintain that there was an "over-reliance on personal friendships" between Savile and officers.
The report said: "No evidence has been found to conclude that there was any impropriety or misconduct in relation to the Friday Morning Club.
"Savile had friends who were police officers, but he also had friends that were solicitors, doctors and many other professions.
"All inquiries have shown that Savile was able to hide his offending from those he came into contact with and who probably thought that they knew him well."
West Yorkshire Police reported that 68 of Savile's victims came forward following the death of the former Top of the Pops presenter in 2011; none came forward during his lifetime.
The youngest was five years old at the time of the offences, the majority of which took place during the 1960s and 70s.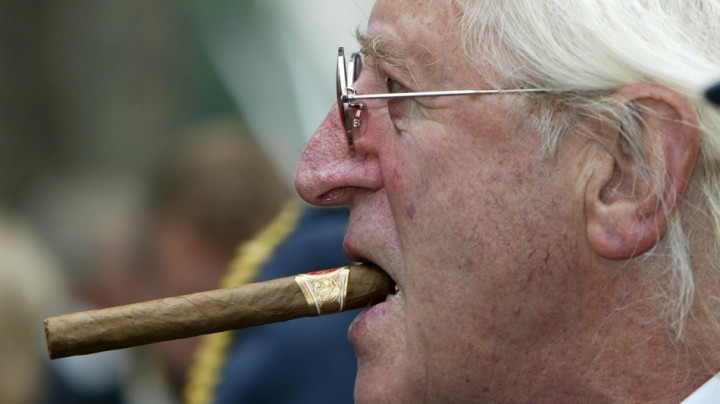 The report shows that WYP was asked by Surrey Police in 2007 to check what records they had that related to Savile in their investigation at Duncroft School, where he had been accused of abusing pupils.
Despite the request from another force, West Yorskhire still asked Savile to help front local crime prevention campaigns, including a 'Hand in a Handler' campaign and a Talking Signs campaign. A recording of Savile's voice was broadcast through speakers attached to lamp posts which gave local students and residents crime prevention advice.
The report said there was a "concern" as to why WYP did not fully check what records Surrey Police held on him as part of the investigation.
It concluded: "The reason for this was that the information was not shared across departments, there was no recognition of the impact of this information and no checks were made on intelligence systems in securing Savile's services.
"There is no doubt that police forces made mistakes in relation to sharing and keeping information relating to Savile so no single clear picture of his offending could be made."
The report also said: "It is clear that many people felt unable to report these dreadful crimes to West Yorkshire Police or to one of the many agencies specially trained to independently receive such complaints.
"It is also clear that Savile's celebrity status and victims' fear of not being believed because of his standing within the community as a high-profile and successful individual was a barrier to reporting."
The report added that there should be a process "which clearly manages the expectations of both parties" when asking a celebrity to front a campaign.
"Any failings on either side could seriously undermine the trust the public have in the police," it added.
Does not add up.
The report also showed that officers in West Yorkshire had mishandled several allegations about Savile. This included an anonymous letter forwarded by an officer from the Metropolitan Police which stated it was "common knowledge in the late 1980s and early 90s that Savile was a paedophile".
A retired officer from the Leeds Vice Squad also believed that the unit had conducted an investigation into allegations of indecent assault by Savile on two girls in the early 1980s. There is no evidence from WYP that this investigation took place, but the matter has been passed on to the Independent Police Complaints Commission.
Alan Collins, a lawyer represents more than 40 of Savile's victims, said he was "not impressed" by the findings in the report.
He told ITV's Daybreak: "The report begs a lot more questions. It provides some answers but the report reveals memories that are not as sharp as perhaps they ought to be, 'can't remember', documents that can't seem to be located. It doesn't add up."
Ass Chief Const Lee said in her introduction to the report: "As Savile's home police force, WYP would have been the obvious place to collect all such information but investigation has shown that much of the available information during Savile's lifetime was never shared with WYP and, when it was WYP, did not connect the events to recognise a potential pattern of offending.
She added: "When taken in context, Savile lived for over 80 years as an individual who has duped millions into believing that he was a genuine celebrity, a charity fundraiser and a harmless eccentric who did nothing but good in our communities.
"However, evidence now suggests that he was a predatory paedophile and manipulative liar who caused harm to so many.
"We will never know the totality of Savile's offending but we must never allow this to happen again."