A far-right extremist has been jailed for life after being found guilty of murdering Labour MP Jo Cox in a pre-meditated killing said to have brought the "two extremities of humanity face-to-face".
Thomas Mair, 53, was convicted of shooting and stabbing the Remain campaigner outside her Batley and Spen constituency library in the market town of Birstall, West Yorkshire, a week before the EU referendum on 16 June.
He was also found guilty of stabbing pensioner Bernard Carter-Kenny as he tried to help Cox, and guilty of firearm and knife offences.
The judge, Justice Wilkie, said the murder was carried out to advance a political cause of violent white supremacism, associated with Nazism.
He concluded the offence was so exceptional that he had to hand down a whole life sentence, saying that Mair could only be released by the home secretary.
The Old Bailey had heard how Mair, an unemployed gardener from Birstall, shouted "Britain first" and "This is for Britain" during the attack on Cox, with officers later finding a stash of far-right books and Nazi material at his council house in Birstall.
The 41-year-old, the first sitting MP to be murdered since the death of Ian Gow by the IRA in 1990, was shot twice in the head and once in the chest, and stabbed 15 times during the attack.
One of the gunshots passed through her hands and into her head as she desperately tried to shield her face from Mair.
The jury reached their guilty verdicts in just over 90 minutes after retiring at the Old Bailey on Wednesday morning (23 November).
The murdered mother-of-two's husband, Brendan, was in the public gallery to watch his wife's killer convicted. He sat alongside Cox's parents, Jean and Gordon Leadbeater, and her sister, Kim.
He told the court moments after Mair's conviction that he felt "nothing but pity" for his wife's killer, and said the murder was "an act of terrorism".
Mair, who had earlier given his name in court as "Death to traitors. Freedom for Britain," sat silently and showed no emotion as the guilty verdicts were delivered.
He had refused to enter the witness stand during the trial, with his lawyer offering no evidence in his defence. He had also sat in silence during three-and-a-half hours of police interviews.
Prosecuting counsel Richard Whittam QC had described his attack as politically motivated and cowardly.
"The sheer brutality of her murder and the utter cowardice of her murderer bring the two extremities of humanity face to face," Whittam QC said.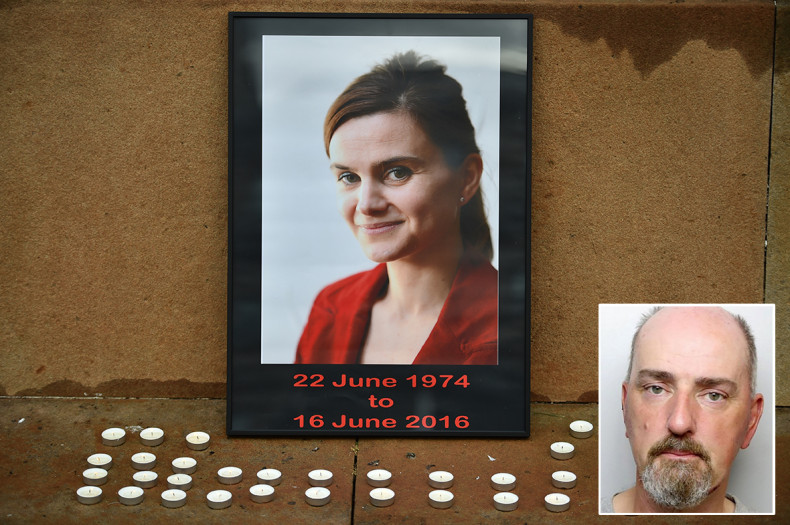 He added that the attack had "brought out the best of the people who were with her" – including two members of staff and Birstall residents who had desperately tried to protect Cox.
The jury had heard how Cox had been in Birstall to attend a surgery for her constituents on the day of her death. An anti-Brexit campaigner, she had been due to join a EU referendum campaign stall later that day.
Witnesses described hearing gunfire and shouting at about 12.50pm when Mair launched into his attack outside the local library in front of horrified bystanders and the MP's staff.
Shelly Morris, the first to call 999, reported hearing "a loud bang like a popping sound" and "a loud piercing scream".
At one point Cox's assistant hit Mair with her handbag in a desperate attempt to save her, while 78-year-old passer-by Bernard Carter-Kenny was stabbed in the stomach as he also tried to intervene.
One witness, David Honeybell, said he saw the attacker stand over the MP and shoot her at close range in the head.
"He just stood over her, cocked his gun and blasted her," he told the court. "[He] walked away like he didn't have a care in the world."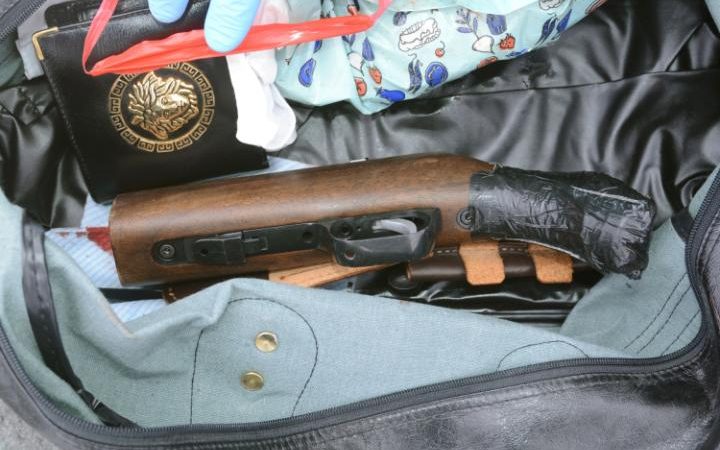 Another witness, Stephen Connolly, said Mair looked "cold" and "just walked away" after the shooting.
When Mair was stopped by police about 20 minutes later, officers told the court he held up his hands and told them: "It's me ... I am a political activist."
He was found in possession of both murder weapons – a modified .22 firearm with its stock and most of its barrel sawn off, and a dagger used by British commandos in the Second World War.
Forensic evidence later matched Cox's DNA on the weapons, with blood stains found on a holdall carried by Mair.
The jury had also been told officers had come upon a stash of far-right material during a police search of Mair's council house in Lowood Lane, Birstall.
This included a golden Nazi eagle ornament adorned with a swastika, an SS officer's book on race theory, material on white supremacist groups and press cuttings on right-wing Norwegian mass killer Anders Breivik.
A dossier on Cox was also allegedly found, made up of newspaper articles about the MP, a printout of her biography from her website, and a quote from her that read: "I believe the patriotic choice is to vote for Britain to remain inside the EU."
A printout of a Wikipedia entry on the Ku Klux Klan-associated White Patriot Party was allegedly found in Mair's drawers, along with material on the BBB – a notorious South African neo-Nazi organisation also known as the White Liberation Movement.
Labour leader Jeremy Corbyn described the murder as an "attack on democracy", saying it had "robbed the world of an ambassador of kindness and compassion".
Sue Hemming, head of the Crown Prosecution Service (CPS), said in a statement after his conviction: "Mair has offered no explanation for his actions but the prosecution was able to demonstrate that, motivated by hate, his pre-meditated crimes were nothing less than acts of terrorism designed to advance his twisted ideology."