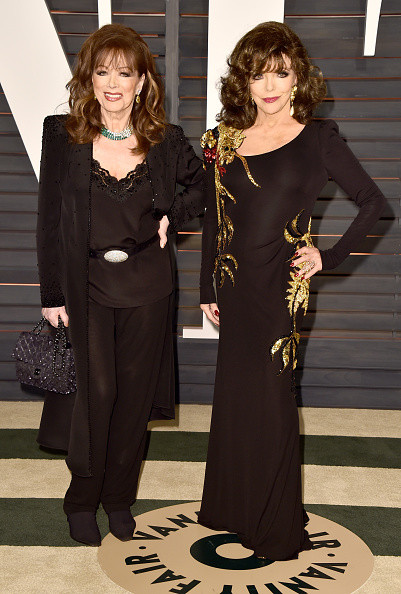 Joan Collins has opened up about her relationship with her sister Jackie Collins and her grief following her passing. One of the world's best-selling authors, Jackie Collins died from breast cancer in September at the age of 77.
She battled the disease in secret for seven years and even her sister Joan only learned of her illness three weeks before she died. Speaking on The Jonathon Ross Show, Joan reflected on their relationship, admitting that they were "not as close" as they used to be. She began by saying they were 'estranged' but quickly back-tracked, explaining that their relationship changed due to her relationship with a man who Jackie had 'loathed'.
"We were estranged, no we were not estranged. We were just not as close as we used to be," she explained. "I was going out with somebody she loathed and he didn't like her very much so we did not spend a lot of time together. But this happens."
Joan has previously commented that Jackie disliked her fourth husband Peter Holm and had little contact with her sister during her marriage in the late 80s.
The 82-year-old who had earlier described her shock at her sister sudden passing said she was still coming to terms with her loss, Mail Online reports. When asked by Ross if she wished she had been told about her sister's cancer sooner, Joan replied: "I don't know Jonathan. I am still thinking about the whole thing. It is a process. I am finding it really hard to realise it.'
"I still have not processed it totally and I think that grief, great grief, is something that takes a while to process. You never get over it, you just learn to live with it. I am thinking about her a lot at the moment."
She revealed that she will be celebrating her sister's life with all her friend's and loved one. "'We are going back to LA for a celebration. That is what she wanted. She planned to have 100 friends at her house and to have a big party. She was a great hostess. People loved her," the Royals star added.
"I have never seen such an out pouring of love and attention since she died which was only five or six weeks ago. She got the cover of People magazine in New York. I have not seen an author get that, maybe if Charles Dickens had died maybe."
Paying tribute to her sister when news of her death went public, Joan said she was completely devastated. "She was my best friend. I admire how she handled this. She was a wonderful, brave and a beautiful person and I love her."
Collins was known for her controversial books about sex and relationships. All her 32 books, written between the 1960s up until the 2010s, have been New York Times bestsellers. From her collection of 30 plus novels, eight have been adapted for the screen, either as films or television mini-series. Her novel Hollywood Wives was made into a mini-series, starring Anthony Hopkins and Candice Bergen in 1985.
The Jonathan Ross Show airs on Saturday 12 November.