Joanna Jedrzejczyk aiming to emulate Conor McGregor: 'Maybe I will fight for the second belt'
Jedrzejczyk has her sights set on the newly formed women's 125 pound division.
Women's strawweight champion Joanna Jedrzejczyk is looking to become just like Conor McGregor — by making history and becoming the first women's two-weight champion in the UFC.
Jedrzejczyk is already going down as arguably the greatest female fighter in mixed martial arts, having recently revealed her goal to pass Ronda Rousey's title defence record of six.
Going one step closer to reaching that goal after successfully defending her title for a fight time against Jessica Andrade at UFC 211, the Polish fighter has now revealed an additional goal of emulating McGregor by conquering two divisions.
Having reigned supreme at 115 pounds since winning the title in March 2015, Jedrzejczyk is now targeting the 125 pound division, which is expected to be formally announced soon.
"We heard about the new flyweight division, so maybe next year I will face a 125-pounder, and maybe I will fight for the second belt," she told TMZ.
While there is a risk of Jedrzejczyk leaving the strawweight division in limbo by targeting another belt similar to McGregor, the 29-year-old has cleaned out the entire division with the exception of top contender Rose Namajunas.
If she is to challenge for another belt, she will likely already have faced Namajunas by then, having claimed she will only fight a 125-pounder in 2018.
"I want to be like Conor McGregor. I like to challenge myself. And definitely Conor sets a good example of hard work and big challenges. I want to reach that as well. I want to be a champion in two different divisions."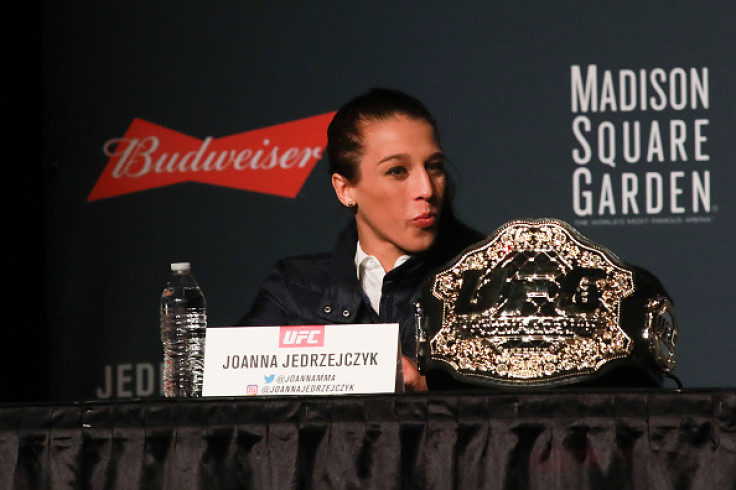 © Copyright IBTimes 2023. All rights reserved.