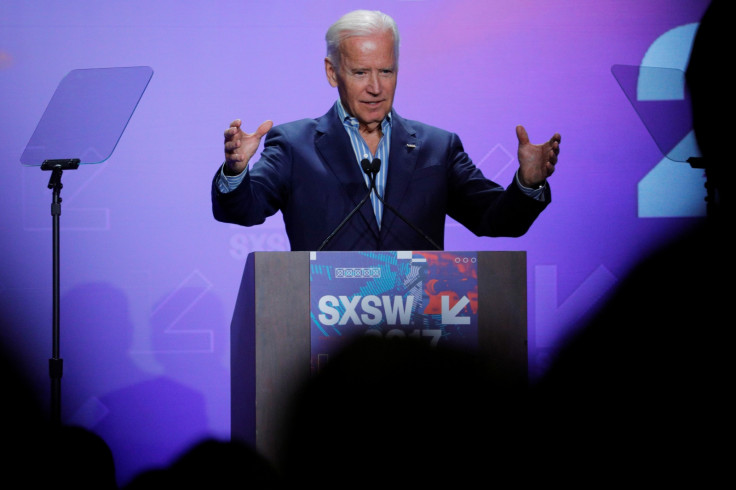 Former US vice president Joe Biden urged tech innovators gathered at the SXSW Conference and Festivals on Sunday (12 March) to join the fight against cancer, calling it the "only bipartisan thing left in America". Delivering an emotional, hour-long speech at the tech summit in Austin, Texas, Biden spoke about the progress of the White House Cancer Moonshot initiative and the challenges that lie ahead in the fight against cancer.
Biden said the idea behind the initiative, created last year by former president Barack Obama, stemmed from a conversation as they were heading to the White House Rose Garden in October 2015 to announce that Biden would not be running for president. When asked by Obama if he had any regrets, Biden said: "I would have loved to be the president who presided over the end of cancer as we know it." To Biden's surprise, Obama later announced the creation of the initiative during his final State of the Union address and put Biden "in charge of mission control".
Biden's son Beau died of brain cancer in 2015 at the age of 46. Biden, in the months following his son's death, did not have the stomach to make a bid for the White House.
"No one should ever run for president of the United States unless they are prepared to give every, every ounce of their energy," Biden said.
When they announced the Moonshot initiative, Biden said they decided to take a new approach to tackling cancer, adding that president Nixon declared the "war on cancer" in 1971.
"Back then in 1971, president Nixon had no army to fight the war. He had no resources; he had no clear strategy to win. But after 45 years of progress, after decades of funding research, training scientists and physicians [and] treating millions of patients, we now have an army."
Biden said we now have powerful new technologies, tools and medical advances to help detect and deter cancer including immunotherapy, liquid biopsies as well as cutting-edge robotics for surgeons to allow for more precise imaging and surgery.
"Cancer never gives up; it never surrenders," Biden said. "That's why we must use every discipline that cancer does and we're starting to do that."
He also mentioned that the Genomic Data Commons at the University of Chicago allows cancer researchers to access a database filled with the genomic and clinical data of cancer patients around the world. The database has now grown from 14,000 to 30,000 patients, Biden said, and has been accessed more than 80 million times by researchers to develop more effective treatments.
"There's hope," he said, noting that Amazon offered free cloud storage space.
Addressing the audience, many of whom include techies and innovators, Biden said: "Many of you are developing technologies and innovations for purposes large and small, fun and serious, entertaining and lifesaving, that have nothing to do with cancer — but you could make a gigantic impact."
"We need your ingenuity. You could have a profound impact on cancer," he said. "You might think that at a time when Facebook has an algorithm to tell if someone is exhibiting potentially suicidal tendencies, that our medical centres would be able to find and test people at risk for certain cancers. But they can't. Why?"
Biden said he would do everything in his power to make the Trump administration continue the fight against cancer.
"It is my hope that this new administration, once it gets organised - and I'm not being facetious - will be able to focus on and be as committed and as enthusiastic as we were in the goal of ending cancer as we know it," he said. "I am optimistic about the American people. Given the chance, they will never, never, never let their country down."