John Cena and Nikki Bella keep their word and strip down in hilarious naked dancing video
The recently engaged couple promised to bare all if Bella's YouTube channel earned 500,000 followers.
We can now definitely say John Cena and Nikki Bella are people of their word. The newly-engaged couple stripped down to their birth suits as part of a promise if Bella and her sister Brie's YouTube channel The Bella Twins reached 500,000 viewers.
Fans of the two wrestlers were eager to see the two strip after Bella promised to get naked once the milestone was reached. "We're finally ready to have this huge celebration," she said at the start of the video. "Sorry it took a few days... It took a while to convince someone to do this," she mentioned, pointing a finger at Cena, who, for the record, still thought it was a bad idea.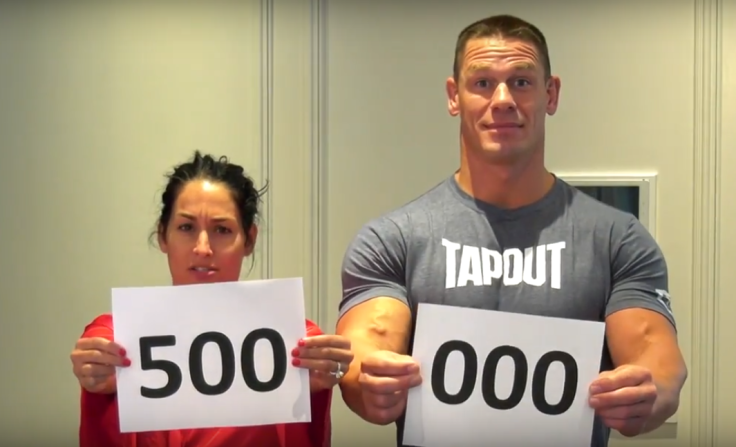 While the muscled actor continued to protest, the Total Divas star took control, ordering him to "shut up and take your clothes off".
The two proceed to strip down (with blurred bars across their private parts) and dance comically for the camera. "I think my tube's on YouTube," Cena jokes while wiggling his butt.
The Marine star then acts like he passed wind stinky enough to drive his fiancé away. "Are you kidding me?" she says before storming off. "What did you do you eat someone else's farts. You honestly ruin everything!"
Watch the comic video below:
Cena recently proposed to his long-time girlfriend Bella during WrestleMania 33 and the two have kicked off wedding preparations, starting with choosing a date.
"I just want it to be a time where we are excited to be together and have family and we feel alive and fresh and I just hope there's a week in our lives where we can just dedicate to that week with friends and family and we get the most special day of our lives," Bella told E! News. "I do not want my man to be exhausted for our wedding day, especially our wedding night."
© Copyright IBTimes 2023. All rights reserved.