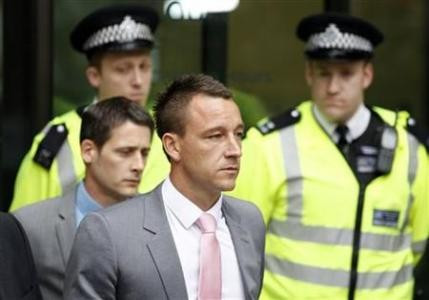 Lawyers for John Terry asking the presiding magistrate at his racism trial have had their appeal to have the case thrown out rejected.
Terry, 31, is charged with a racially aggravated public offence for allegedly making an offensive comment to Ferdinand, 27, when the two teams played at Loftus Road on 23 October, 2011. Terry denies the accusations.
Terry's lawyers requested that the case be dismissed due to insignificant evidence and because Ferdinand is an unreliable witness after the conclusion of the prosecution.
George Carter-Stephenson QC made the appeal after lip-readers at the trial, who were there to view TV footage of the alleged in incident, agreed that it was impossible to clarify what Terry had said.
He argued the case was "so weak and tenuous it does not warrant it going any further".
Ferdinand's reliability "is further damaged," Carter-Stephenson said, by the fact he identified a YouTube clip of the incident as being from the live TV feed when it was from footage that wasn't broadcast.
Carter-Stephenson said the video is "interpreted and incomplete," adding that evidence from lip-reading experts is inconclusive.
"This case should go no further, there is insufficient evidence," he said.
The case appeal was rejected by Chief Magistrate Howard Riddle, who said Terry does have a case to answer for.
Earlier, the court was played an interview between FA investigator Jennifer Kennedy and Terry conducted a week after the game at Loftus Road.
In the interview, the former England captain said: "I have been called a lot of things in my football career on and off the pitch, but being called a racist I am not prepared to take.
"That's why I came out and made my statement immediately.
"I am not having Anton thinking that about me or anyone else. That's not my character at all."
The court also heard how Terry's involvement with former Chelsea players Marcel Desailly and Didier Drogba African charities proves he was not a racist.
Ferdinand previously told the court he did not think any racist language had been used, but changed his mind after his girlfriend showed him a clip on YouTube after the game.
Terry faces a maximum fine of £2,500 if found guilty.