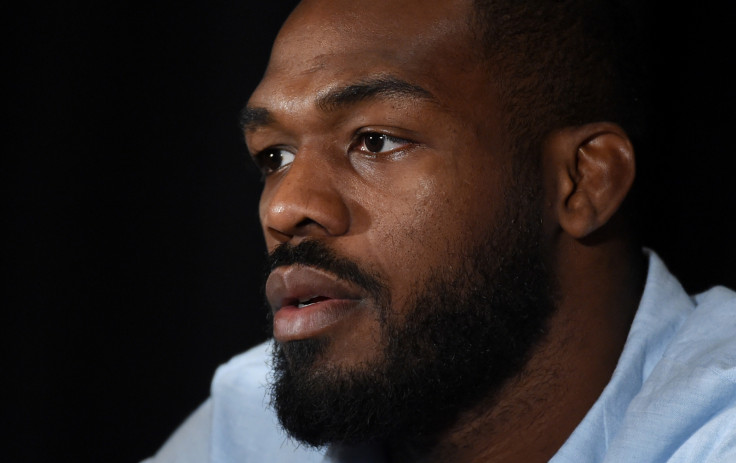 Jon Jones has been stripped of his interim title after being banned in the aftermath of a failed drugs test that led to his removal from the headline slot at UFC 200 in July. The former dominant light-heavyweight champion and pound-for-pound king was handed a one-year suspension on Monday (7 November) following a United States Anti-Doping Agency (Usada) arbitration hearing.
"It doesn't make sense," UFC president Dana White told the 5ive Rounds podcast. "He was the interim champion because he should have been fighting for the title. We gave him this, 'You were supposed to fight for the title. Here it is.' It doesn't make sense with all the stuff that is going on for him to still be the interim champion."
Jones, who was due to face arch-rival and current champion Daniel Cormier for a second time in the main event at UFC 200 after the postponement of Conor McGregor's rematch against Nate Diaz, tested positive for the presence of prohibited substances clomiphene and letrozole in an out-of-competition urine test.
However, he strenuously denied knowingly taking any performance drugs and contended that he believed he had taken erectile dysfunction medication Cialis, after having previously checked with his agent that it did not feature on the World Anti-Doping Agency's (Wada) banned list.
However, it later transpired that the contaminated pill, given to him by a teammate, was actually another form of Tadalafil and manufactured to "standards far less rigorous than those required by the US Food and Drugs Administration (FDA)". In their conclusion to the case, Usada accepted Jones' version of events but claimed that his degree of fault in not making any enquiries regarding the Tadalafil pill he did take "verged on the reckless", and imposed the maximum sanction of of a 12-month ban that has been backdated to July.
In a statement given to ESPN after the hearing, Jones said: "Although I was hopeful for a better outcome in the Usada ruling today I am very respectful of the process in which they allowed me to defend myself. I have always maintained my innocence and I am very happy I have been cleared in any wrongdoing pursuant to the allegations made that I had intentionally taken a banned substance. I am pleased that in USADA's investigation they determined I was 'not a cheater of the sport.'
"Being cleared of these allegations was very important to me. I have worked hard in and outside of the octagon to regain my image and my fighting career and will take these next eight months to continue my training and personal growth both as a man and a [sic] athlete. Thank you to all of my fans, teammates, coaches, sponsors and to the UFC for their continued support."