Jonah Hill is almost unrecognisable as he is spotted on the set of his next crime-comedy film, looking significantly heavier than he has appeared in recent years.
It is always unclear whether the Knocked Up actor's yo-yo dieting is deliberate in his preparation for certain roles or if he actually struggles to maintain a slender look.
The 31-year-old was photographed in Burbank, California, during filming for Arms And The Dudes. Appearing as if he were in character, Hill was wearing a bright blue shirt, white cropped trousers and gold jewellery accompanied by a serious tan but it was his shocking weight gain that really caught everyone's attention.
The new film is based upon an article written in Rolling Stone magazine by Guy Lawson. It tells the true story of two arms dealers who were hired by the Pentagon to provide weapons for US allies fighting in Afghanistan.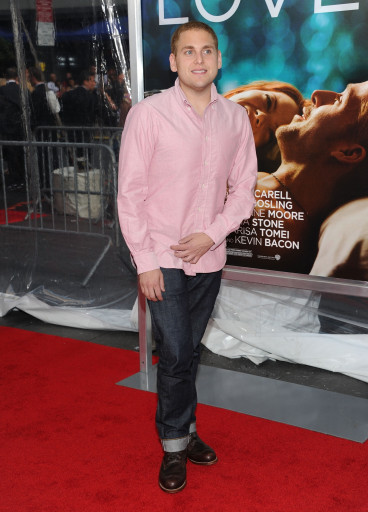 Hill is no stranger to being in the media due to his fluctuating weight. In 2011, he reportedly lost 40lb for his role in Oscar-nominated Moneyball, then went on to reach his slimmest physique to date later that year after adopting a sushi-based diet. He was filming police comedy 21 Jump Street alongside Channing Tatum around the time.
Despite wishing he could have done it an easier way, Hill reflected on his weight loss in 2013, telling Australia's Kyle and Jackie O radio show: "Unfortunately, I went to see a nutritionist, and he told me what to eat to change my habits and stuff. I found that Japanese food was very helpful to me."
By the time of that interview, though, he was set to film The Wolf Of Wall Street with Leonardo DiCaprio and had reverted back to his former, fuller size.
Throughout 2014, Hill was dating dietician Brooke Glazer but shortly after they split, friends of the star revealed to RadarOnline that they had worries about his health, stating "Jonah is eating again with reckless abandon".
The Superbad star has previously said taking care of himself and presenting a healthier body image was an indication that he wanted to make his way into more serious film-making.
He told NY magazine: "It's hard, because a lot of times people want you to be the guy you were when they met you. And I love doing funny movies, but I want to mature, literally, in how I treat myself. Being healthier came along with maturity."