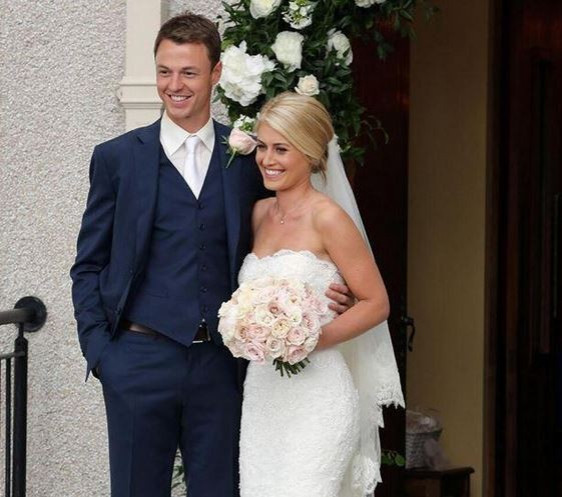 Manchester United footballer Jonny Evans has tied the knot with presenter Helen McConnell in a traditional ceremony conducted by her father, Rev Kenneth McConnell at Clough Presbyterian Church, County Down.
Helen looked elegant in a strapless white lace gown, with a sweetheart neckline and a full-length veil, and kept it simple with a silver chain. While the groom looked dapper in a three-piece blue suit, and teamed it up with a white shirt and tie and brown lace-up shoes.
The 25-year-old Northern Ireland model moved to Manchester several years ago to work as a freelance reporter on Irish League games, motorsports and hockey before landing a dream job at Manchester United TV (MUTV).
"Rather than being forced into loving football and Manchester United, it came naturally to her and so from a young age Manchester United was the only team Helen knew anything about," the channel's website states.
The couple met when Helen interviewed Evans for MUTV in 2011, and soon became an item.
"Everything about Jonny towards us has been very respectful since he started seeing Helen," Rev McConnell said in the run-up to the wedding, "They are a very private couple, that's the way they are. Jonny has a very supportive family network and he's very close to his family. He's very kind, very thoughtful, and we found that since the start. He's an exceptionally nice lad and we're very fond of him. You hear these things about footballers being all bling and flash with no substance, but that's not the way he is."
Many famous personalities including footballer Darren Gibson and Northern Ireland manager Michael O'Neill attended the wedding.