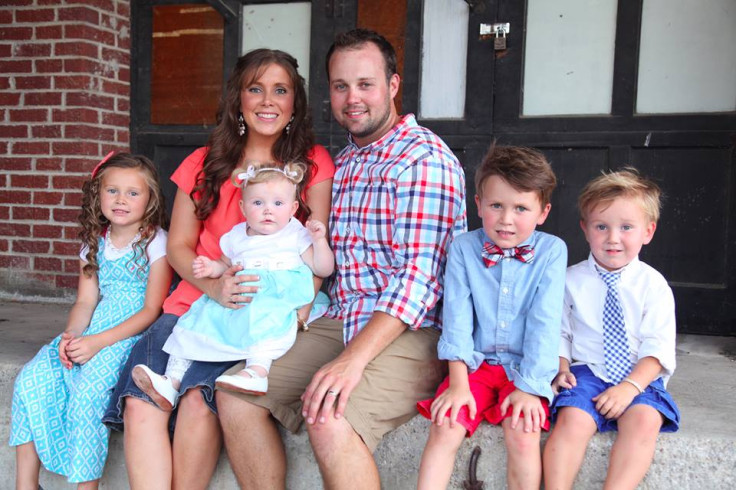 Jim Bob and Michelle Duggar are celebrating the 29th birthday of their son Josh by sharing his family portrait. They wished him a 'wonderful year' ahead with an inspirational message for him and his 'amazing wife' Anna.
"Happy birthday, Josh. We love you, your amazing wife and sweet children. We pray that you diligently follow and serve the Lord with your whole heart all the days of your life and that this year is a wonderful year for you and your family," the Facebook message reads.
"We know you all have been eager to see a new photo of Josh and Anna Duggar and their four children. For posterity, we have also included a couple of old photos of Josh," the family wrote on its official blog claiming the picture to be latest.
But a parody Facebook page for the former 19 Kids and Counting family, speculates that the family portrait of Josh and Anna uploaded on the family's blog is six months old and has been captured during fall 2016. It also claims that the couple's fourth child Meredith is now 20 months old while she appears way smaller than her age in the image. The latest image and its date have refuelled the debate that all is not well between Anna and Josh.
The former reality TV star is slowly coming out of hiding after completing his stint at the faith-based rehabilitation centre which he entered in August 2015. Soon after his return, he and his heartbroken wife Anna underwent couples counselling to rebuild their relationship which was cracked due to the eldest Duggar son's shocking OkCupid and Ashley Madison revelations.
"I still wish them well---I don't believe Josh can be 'cured' but I do not wish Anna or the kids any harm. I would like an update with a new family picture for sure," another fan of the Duggar family commented.
"That birthday wish from his parents makes me think that his "treatment/therapy" isn't working. As long as he's been the home you'd expect to hear, "we are so proud of the strides that you have taken to better yourself and undo great injustices that you have done", or something to that effect. Instead, they said that they love his amazing wife, probably for the simple fact that she stayed, and his sweet children... It makes you wonder," a viewer wrote on the family's parody page.
Post the scandal, there is little to no information about the couple and their four children while the Duggar sisters are taking centre stage with their engagements, weddings and pregnancies in TLC's spinoff show Counting On.