Josh Duggar plays victim in sexual abuse case: Claims he was forced to relive painful memories
Josh reportedly sexually molested four of his younger sisters while he was a teen.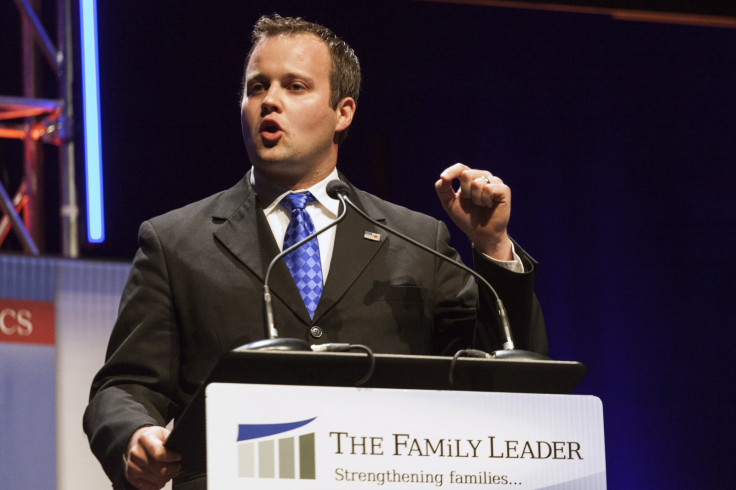 Josh Duggar reportedly wants to join the lawsuit filed by Jill, Jessa, Jinger and Joy-Anna Duggar against Springdale city in Arkansas, police officials as well as InTouch magazine for breach of privacy.
TMZ claims that the disgraced son of Jim Bob and Michelle has already filed documents to join the lawsuit where he reportedly alleges he was "victimised and forced to relieve the painful and difficult circumstances of a traumatic experience as a juvenile".
In his documents, the 29-year-old former reality star, allegedly claims that in 2006 the police had promised to keep his interview regarding the molestation of his sisters private. But InTouch magazine reported that the eldest Duggar son was investigated for inappropriately touching his minor sisters when he was 14 years old. The gossip magazine acquired the papers via a Freedom of Information Act request.
The Duggar daughters filed the lawsuit in May this year and accused the defendants of forcing them to relive painful memories that caused severe mental anguish that "occurred almost ten years prior, resulting in Plaintiffs suffering severe mental anguish and distress".
Sisters Jill, Jessa, Jinger and Joy Anna are all married now and according to the report, they are all seeking damage from the defendants. By joining his sisters, Josh too is reportedly seeking damage from Springdale, Arkansas police, city and county prosecutors and In Touch publishers, TMZ added.
Josh, who is expecting his fifth child with wife Anna, was embroiled in various controversies soon after the sexual abuse scandal as he confessed to porn addiction and cheating on his wife. He soon entered a faith-based rehab. The controversies hit his relationship with wife Anna hard and soon after his rehab stint they went for couple's therapy to "rebuild trust".
However, his alleged document filing has not gone down well with fans who think the controversial reality star wants to cash in on his past actions as an alleged child molester. "Josh Duggar molested his sisters. His parents covered it up. Years later police records were obtained legally with names blotted out. The Duggars went on a National news program and outed the victims themselves. Then did it again through this lawsuit. And now the molester wants money too," a Facebook user commented on the Duggar family's parody page.
"This proves what I've thought of Josh all along. He is a narcissist with sociopathic tendencies. I don't believe he has a conscience. I don't believe he ever feels shame or remorse," another angry fan replied on the Facebook post.
© Copyright IBTimes 2023. All rights reserved.