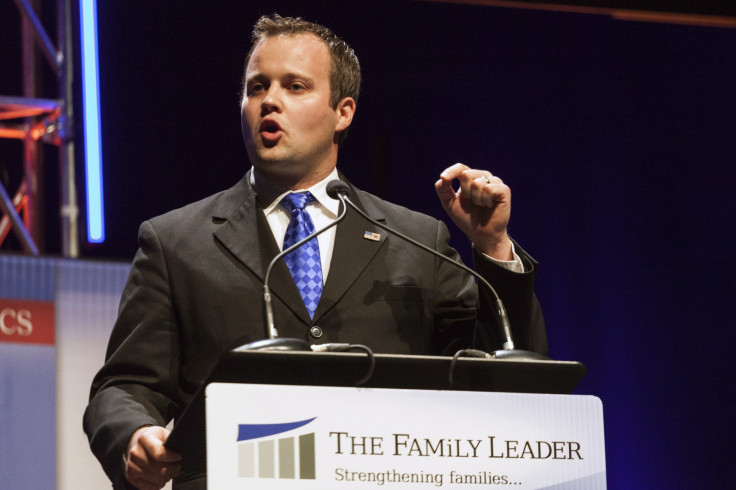 News of Josh Duggar's return on TLC's docu-series, Jill and Jessa Counting On, has been debunked after a source close to the network denied the development. The eldest son of Jim Bob and Michelle left the faith-based rehabilitation centre in March this year and has remained away from the public eye while trying to rebuild his personal life.
People magazine quoted a source as saying that rumours were "completely untrue". The former 19 Kids And Counting star spent seven months in rehab to deal for porn addiction and is being counselled to rebuild his trust with wife Anna.
According to Hollywood Life, InTouch magazine had reported that the 28-year-old reality TV star was planning to appear on the show to address the controversies surrounding him. "Josh will appear on the next season of his sisters' series. The plan is for him to address everything he's done. What he has to say will be rating gold, and TLC — and the Duggars — know it."
The father-of-four was accused of sexually molesting his sisters as a teenager and later his name surfaced in the infamous Ashley Madison hack controversy.
Meanwhile, a photo of Josh was posed on Facebook, where he can be seen carrying his youngest daughter Meredith Grace along with wife Anna and his younger siblings.
The family's spin-off series, Jill And Jessa Counting has been renewed for another season despite struggling for sponsors. "Counting On is set to return to TLC later this summer! We made the announcement alongside news of Jinger Duggar's courtship with Jeremy Vuolo, so it may have been just a little bit overshadowed," the family announced on their official blog in June and teased events related to their fourth daughter's courtship.