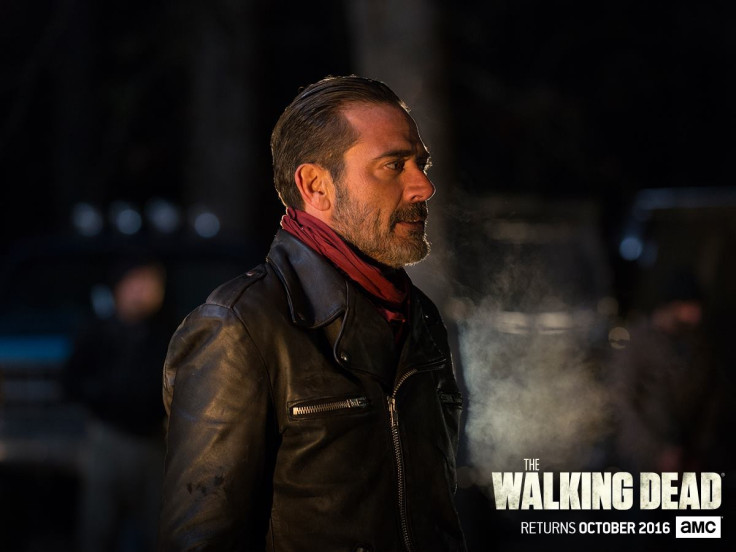 AMC has released an image of the infamous villain Negan, ahead of the fall premiere of The Walking Dead season 7. The panel for the series is set to appear at the San Diego Comic Con 2016, where the first trailer for the upcoming season will be released.
There are glimpses of hope that the trailer will answer a few of the numerous speculations surrounding Negan's possible victims from the premiere episode. Although nothing can be predicted from the recently released image, executive producer Greg Nicotero has revealed the victim's face will be revealed in the first episode.
"Yes, who was at the receiving end of Negan's bat will be revealed in the first episode," he told Entertainment Weekly. The website released the first image of the Savior leader, which looks more like a capture from the season 6 finale.
The seventh season of the zombie thriller will pick up right after the last scene of season 6. In Robert Kirkman's graphic comic book, Negan is infamous for using expletives abundantly but his introduction speech in the show is "gentle" compared to that of his character's in the comic book. However, the show producer warns of "plenty more rants" from Jeffrey Dean Morgan' character in the upcoming season.
"Negan is that kind of guy. He's the kind of guy who imagines himself on stage at a high school production and he loves every second of it. So, I don't really see a lot of quiet contemplative moments with Negan. I feel like with Negan it's really going to be about him gesticulating and him sort of relishing in the sound of his own voice while he commands the stage in front of whoever's alive."
The season 6 finale ended on a cliffhanger with the show antagonist smashing the skull of a major character and TV Guide speculates that Glenn and Maggie will be at the receiving end of Lucille, Negan's baseball bat wrapped with barbed wires. The website reasoned that Maggie's sickness, pregnancy and delirious condition would make her Negan's victim. In Kirkman's comic book, Glenn is the first victim who gets his skull smashed.
The Walking Dead season 7 will premiere in October on AMC network this year.