JP Morgan technology expert Gabriel Magee was nearly three times the drink-drive limit when he jumped from the 32nd floor of JP Morgan's European headquarters in Canary Wharf.
Magee, who was a vice president in the banking giant's technology department, plunged to his death from the US bank's 33-storey tower in London on January 28.
An inquest into his death has revealed the American had a high level of alcohol in his system before he committed suicide and while coroner Mary Hassell was unable to shine a light on why Magee took his own life, she said that previous personal issues had caused Magee performance problems at the bank.
"I am wholly satisfied that Gabriel jumped off the 32nd floor with the intention of killing himself," she said.
Mark Gibbons, a friend and colleague at the investment bank, told Hassell that although he had seemed happy in the run up to his death, Magee, who had worked at the bank since 2004, had sent him an email while he was working in New York saying he "could not handle this".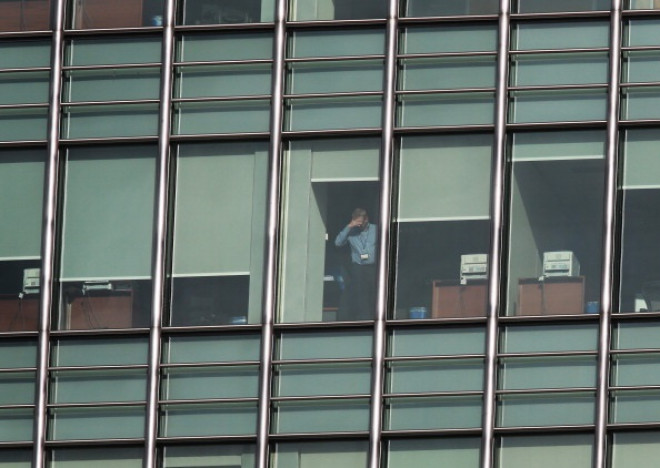 Canary Wharf was rocked by the 39-year-old's death, which happened just after the morning rush hour as many finance professionals were arriving at their desks in London's financial heartland.
He crashed onto the ninth-floor podium of the 500ft building and was pronounced dead by paramedics. Employees reported his body lying at the scene for hours after the incident before it was finally removed.
Police had not treated the death with suspicion and Hassell recorded a suicide verdict at Poplar Coroner's Court.
While Hassell did not make any recommendations on how to prevent deaths like Magee's in the furture , in March a JP Morgan spokesman said the company provided an employee assistance programme and promoted a balanced lifestyle. The company had also rolled out a policy where junior bankers have at least one weekend off a month.
In a statement to IBTimes UK, JP Morgan said: "Our heartfelt condolences go out to Gabriel's family and friends. We are focused on supporting our colleagues and those close to him on this very difficult day."