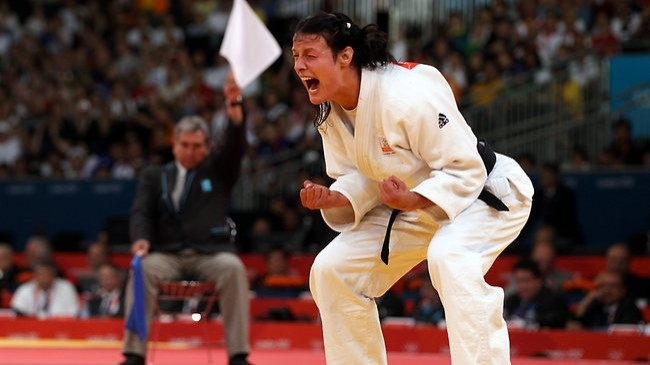 A little poetic justice was handed out at the 100m final after a spectator who threw a bottle on the track was hit by a Dutch world judo champion who was sitting next to him.
Edith Bosch, who won the bronze in the 70kg judo competition, was settling down to watch the 100m final when a man later identified as Ashley Gill-Webb, 34, from South Milford, North Yorkshire, threw a plastic bottle at the athletes from the stands behind the starting line.
Bosch reacted "emotionally" and hit the thrower on the back.
"I had seen the man walking around earlier and said to people around me that he was a peculiar bloke," she said on Dutch television station NOS TV.
"Then he threw that bottle and in my emotion I hit him on the back with the flat of my hand."
Locog chairman Sebastian Coe said it was "poetic justice" that the Olympic troublemaker happened to be sitting next to a competitor.
"Throwing a bottle on to the field of play is unacceptable. It's not just unacceptable at an Olympic Games, it's unacceptable at any sports venue. There is a zero tolerance to anything like that," he said.
"I am not suggesting vigilantism but it was actually poetic justice that they did happen to be sitting next to a judo player.
"I think the expression is 'ippon'," he said. "Ippon", Japanese for "one full point", is a winning chop in martial arts.
The bottle-thrower was arrested by the Metropolitan Police and will appear at Stratford magistrates' court in east London.
Gill-Webb, a vending machine repairman and father of two, faces a charge of acting in a way likely to cause harassment, alarm or distress.
"I just cannot understand how someone can do something like that," said Bosch.
"He did make me miss the final, and I am very sad about that."
"It was a little distraction and I didn't know what it was. But when you're in those blocks and the whole stadium's quiet you can hear a pin drop," said US runner Justin Gatlin, who won the bronze
100m winner Usain Bolt said he did not notice anything.