Veteran YouTuber DomisLive (aka Dom) reveals the secret location guide for accessing the fastest F1 car – Mugello Farina Duo – in Just Cause 3 as part of his latest gameplay video. You can find this car spawning at a specific event location called Salrosa Sprint, which is a land-race that requires you to pass through checkpoints and reach the finish line, before time runs out.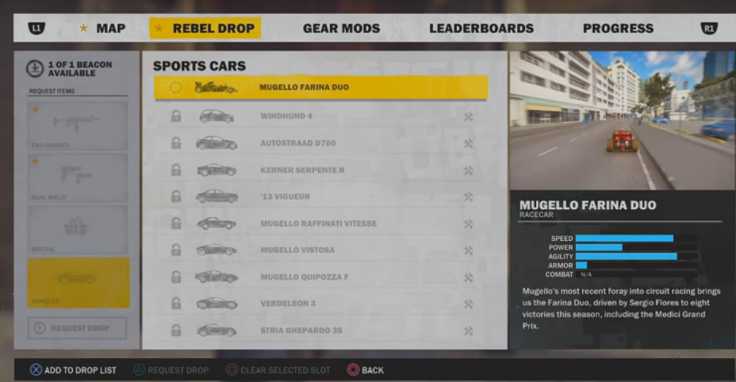 Here is how you get the fastest car in Just Cause 3:
Just place the pointer on the Salrosa Sprint event location on the in-game mini-map, right-click on the event and choose Fast Travel.
You may need to give it multiple attempts, before you can successfully spawn the F1 race car at this location.
You can spot this car right at the back of the derailed semi-truck or trailer that is lying to one side of the road. It could spawn in one of two colours, Red or White, depending on the random selection based on the number of attempts.
Once you get near the car, just try grabbing or pulling the car towards you, using the grappling hook.
Just use the hook and connect one end to the car and the other end to the road in order to pull the car out of the rubble.
Tip 1: You can hit L1 to use the grappling hook on the PS4 or LB on the Xbox One. If you have a PC, just check the keyboard input configuration from the settings and change the movement and combat key assignments, according to your playing style.
Tip 2: It is imperative that you take this car to the garage in order to save it under your Rebel Drop list. If you fail to do so, the car could disappear after some time and you will have to repeat the entire process from scratch to reacquire it.
Tip 3: Once you have saved the car in Rebel Drop list, you can call-in for personal delivery of the car to your current location, whenever you need it.
For further assistance, check out Dom's interesting gameplay video below:
In related news, a Redditor named LiamGarbett has posted the complete list of Easter-Eggs in Just Cause 3 that have been unearthed by him so far. Check out his exclusive gameplay videos and screenshots depicting them in action:
Images: