Justice League Part One: Director Zack Snyder shares behind-the-scenes picture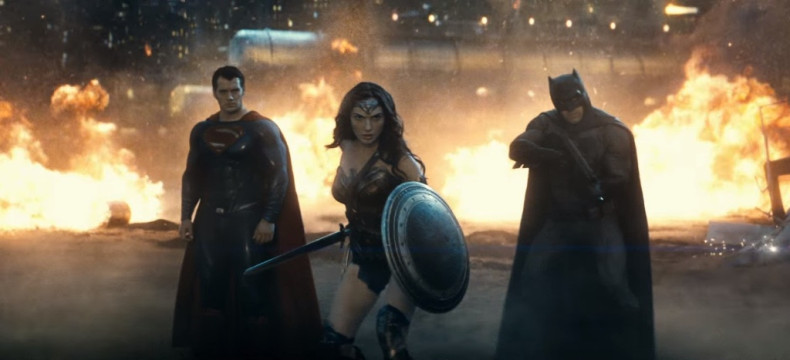 Batman v Superman: Dawn Of Justice director Zack Snyder has shared a behind-the-scenes image of upcoming Warner Bros. movie The Justice League Part One via his Twitter account. The 49-year-old filmmaker can be seen in the photograph alongside actor Jason Momoa, who is set to play Aquaman in the hotly-anticipated DC instalment.
Of course, your attention immediately goes to Snyder and Momoa at the forefront of the snapshot, but for eagerly-eyed DC Comics fans, the background is full of a few interesting things to look at too. Towards the left top corner of the image, onlookers can catch a glimpse at The Flash's superhero suit, a character that The Perks Of Being A Wallflower star Ezra Miller will introduce in upcoming instalment Batman v Superman: Dawn Of Justice and reprise for Justice League. Next to him, Aquaman's costume can also be spotted, behind what is likely to be Batman's all-black get-up.
Behind Snyder's head, you can see a model donning a costume that covers most of his face and while they're isn't an obvious character when you think of such an outfit, a couple of names spring to mind. If the costume designers are creating their own spin on the traditional suits, which they undoubtedly are, then that character could well be either Martian Manhunter, Red Tornado or Phantom Stranger; all of these obscure their faces in the comics.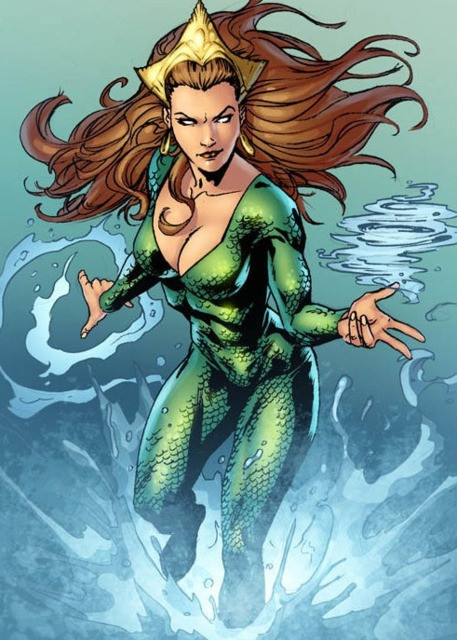 Amber Heard has been rumoured to be making an appearing in Justice League as Mera. Is that her suit on the right of Snyder's latest teasing shot?
DC Comics
Towards the right of the shared image, Batman's iconic pointy eared helmet can be seen on the table but the costume on the model behind the headpiece is slightly more intriguing given that its not obvious whose supersuit it actually is. While it could potentially be an updated version of Wonder Woman's suit, which may make its debut in the film, as by that time she will have been seen in both Dawn Of Justice and her own standalone movie, it could just as easily belong to another female character too. Black Canary or Hawkgirl for example, who feature quite heavily in the Justice League comics. Or it could gearing up to be Amber Heard's, who has been rumoured to be featuring in the upcoming instalment as Aquaman's love interest Mera.
The sneak peak behind the scenes isn't the only news that's exciting DC fans about the Justice League finally coming together, as just this week, it was revealed the film will finally begin shooting on 11 April 2016.
"The idea that we could begin to boot up a Justice League concept was a cool thing," says Snyder, who also directed 2013's Man of Steel and has become one of the key figures in shaping DC's connected film universe.
"It was a little bit of an 'about time' moment, and I don't blame [the studio] for feeling that way, because it's a long time coming," he said. "But I do feel like it's a little bit of a creative hurdle. It seems like an easy thing to do at first glance, the idea that, 'Oh, we just get the rest of the superheroes in there.' But you have to [establish] a world where they can exist."
Batman v Superman: Dawn Of Justice, which stars Henry Cavill as Clark Kent and Ben Affleck as Bruce Wayne, as well as Amy Adams, Jeremy Irons, Holly Hunter and Jesse Eisenberg will reach both UK and US cinemas on 25 March 2016. The Caped Crusader will then have a cameo in Suicide Squad later in the same year and Wonder Woman's standalone movie will follow, slated for a June 2017 release.
The Justice League Part One will be released on 17 November 2017 while Part Two is not scheduled to come out until 2019. In other words, it's safe to say, DC Comics fans are sure to get their fill over the next five years.
For more entertainment news follow A-List on Twitter @Alistinsider