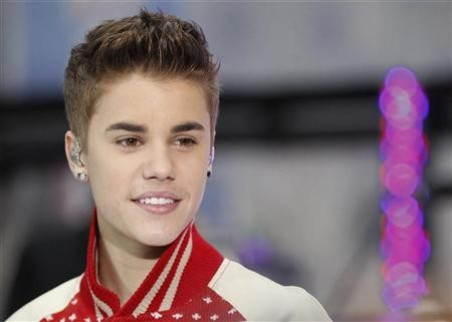 Justin Bieber allegedly spat in a DJ's face while partying with friends in an Ohio nightclub.
The 19-year-old teen pop sensation was accused of the assault in the VIP area of the Social Room bar and lounge in Columbus.
According to celebrity site TMZ.com, the Baby hitmaker confronted the man in the bar in the belief that he was taking pictures without permission.
The victim alleged that two Bieber bouncers grabbed his phone and went through its memory card. Although they found nothing, Bieber was said to have confronted the man and spat in his face.
"He called my mum something, called my dad something, called me something ... and spat in my face," the DJ claimed.
The DJ submitted himself to a hepatitis test after the incident: it came back negative, he said, adding that he would be filing charges against the teenager.
A source close to the star slammed the allegations as bogus and said the complainant had ulterior motives.
"Everything's been going well on tour. It's sad that people would copycat other bogus stories to gain attention for themselves," the insider said.