At least 24 people have died and 42 others have been wounded after a suicide attacker detonated a car bomb in the Afghanistan capital, Kabul, early on Monday (24 July). The attack is reported to have taken place in the western part of Kabul, a mainly Shia Hazara neighbourhood, where prominent politicians live.
The attacker appeared to have rammed his car into a minibus, media reports cite Afghan Interior Ministry spokesman Najib Danish as saying.
However, it is not clear who the bomber targeted, but militants and terror groups have previously attacked buses carrying government officials in the country.
Children are believed to be among those injured as the attack took place at rush hour and students were on their way to a nearby private high school.
The Interior Ministry called the attack "a criminal act against humanity".
No group has claimed responsibility yet, but the Taliban militant group and the so-called Islamic State (Isis) group's affiliate in the country have carried out several attacks in Kabul in the past.
Danish said the bus was badly charred and it is not known yet whether the passengers of the bus were government employees.
"Right now all we know is that they were all civilians," the ministry spokesman told The Associated Press.
Three other cars too are reported to have been destroyed along with several shops in the area, according to Kabul's police chief spokesman Basir Mujahed.
"The bomber attacked at one of the busiest times of the day," Mujahed said. "There were traffic jams with people going to work and to the university and schools. Many of the shops had just opened."
Police have cordoned off the scene of the attack, which is reported to be located near the house of deputy government Chief Executive Mohammad Mohaqiq.
"We assume the car wanted to target Mohaqiq's house but was stopped by guards," a spokesman for Mohaqiq told AFP news agency.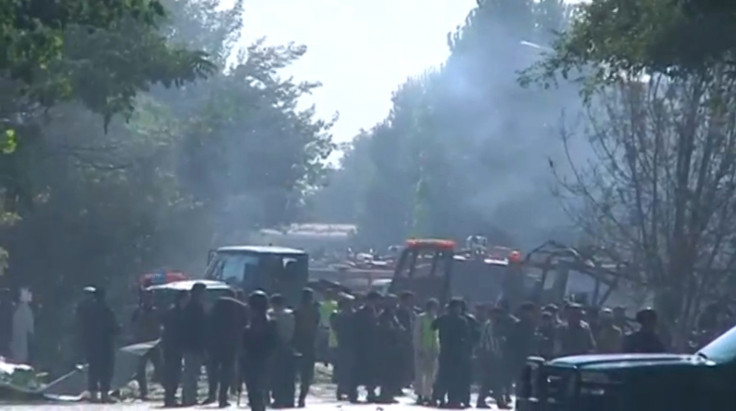 Several attacks have taken place in the Hazara neighbourhood in the past, including the suicide attack in June that killed Ramazan Hussainzada, a prominent Shia Muslim cleric who was also a senior leader of the ethnic Hazara Shia community.
In May, a suicide truck bombing in the heart of the Afghan capital killed more than 150 people, making it the deadliest single attack in the country since the 2001 US-led invasion to topple the Taliban.
The attack added to growing concerns about whether Afghan forces can defeat the Taliban or an increasingly destructive Isis affiliate without further aid from the US and international forces. The forces formally concluded their combat mission at the end of 2014 and switched to a support and counter-terrorism role.