Kanye West and Jay Z tour rider demands leaked: Cylindrical vases, black towels and no vacuuming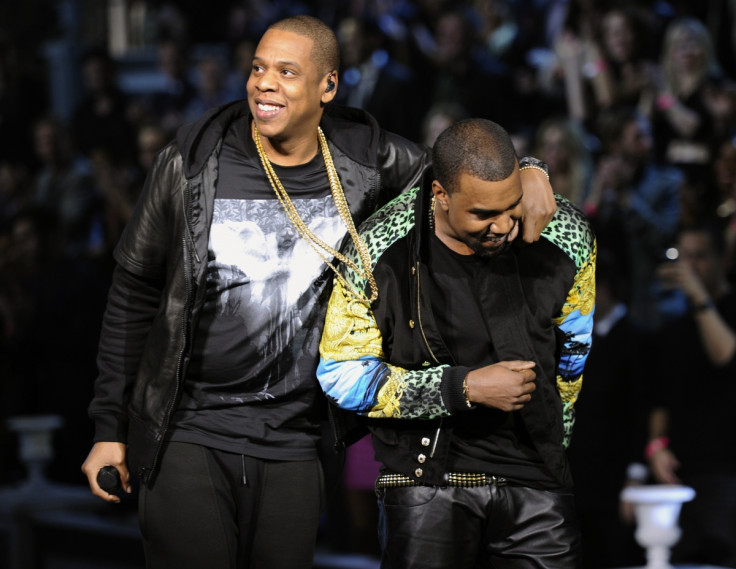 They are two of the biggest stars in hip hop so it is no surprise that Jay Z and Kanye West have some bizarre demands on their tour riders. A list featuring reported requests from the Watch The Throne rappers has leaked online and it provides an interesting insight into their lavish lifestyle.
Perhaps less surprising, West, 38, comes across as the bigger diva out of the two with his alleged rider, which was published by TMZ, stating that all vases in his hotel room must be cylindrical while he prefers black towels only. Incredibly, the All Day rapper reportedly expects staff to hunt down a Genelecs 1031a speaker which was discontinued 10 years ago and demands 13 bottles of alcohol totalling $3,200 (£2,080), including three bottles of Paradis Hennessy.
Interestingly, West is said to have listed no demands for his two-year-old daughter North, whom he shares with wife Kim Kardashian, but his good friend Jay Z has made sure to cater to his daughter Blue Ivy's needs. According to the publication, Jay Z, 45, demands that the suite is completely child-proofed to protect the three-year-old, including covering sharp edges and electrical outlets and removing any breakable objects. The Big Pimpin rapper also requests organic milk only for the toddler.
Other demands from Jay Z are said to include that the room temperature remains at 71F while he would like the suite scented with three Mayan tuberose candles costing $80 each. The hip hop mogul clearly likes his surroundings to be as peaceful as possible as he asks there to be no vacuuming near his room. As for the alcohol, the rider reportedly states that the room is kitted out with Ace Of Spades champagne but Jay Z is not to be charged for the bottles as he owns the company. Additionally, hotel staff have been warned not to ask the Grammy-winning rapper for concert tickets to avoid "embarrassment".
Jay Z and West last toured together in 2012 on their Watch The Throne in support of their collaborative album which was released the previous year. Jay Z has since toured with his wife Beyonce and pop singer Justin Timberlake, while West regularly books in festivals and concerts.
© Copyright IBTimes 2023. All rights reserved.