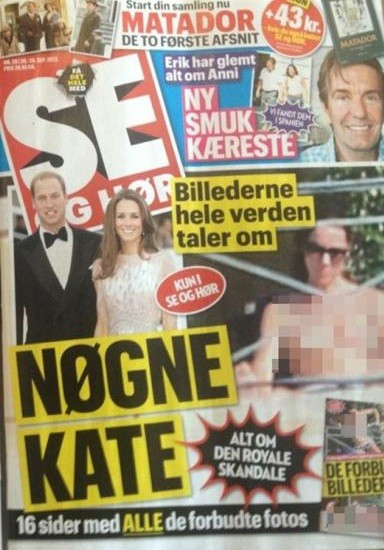 A Danish magazine has printed pictures of Kate Middleton changing her bikini bottoms.
Glossy weekly Se Og Hor published a 16-page special showing pictures of the Duchess of Cambridge from the front, changing her costume.
The photos were captured with a long lens while the royal couple were relaxing by a swimming pool at the Chateau d'Autet, a secluded 19th century hunting lodge in Provence owned by the Queen's nephew Lord Linley.
The intimate shots are part of the same set whose publication by French magazine Closer upset the royal couple earlier this month.
The existence of pictures showing Kate completely naked had been rumoured in recent weeks, but no publication had so far printed them.
"I won't hide the fact that there are more intimate pictures that exist, that we haven't published, and will not publish," said Laurence Pieau, the unapologetic editor of Closer, in an interview with Sky News.
"Probably other newspapers will choose to publish them, but that wasn't our choice," she said.
Se Og Hor's editor in chief Kim Henningsen made that choice, undaunted by the possibility of an expensive legal action against the magazine.
"It's a set of unique photos from an A-class celebrity. We are a leading gossip magazine in Denmark, and it is my job to publish them," he said.
"If the British royal family want to sue us, then it will happen then and we'll deal with it.
"Our readers love to follow the lives of royalty and celebrities, and demand revealing news, up close."
St James's Palace has said it is considering "all appropriate responses."
Kate Middleton Bottomless Photos: A History of the Duchess of Cambridge Nude Pictures