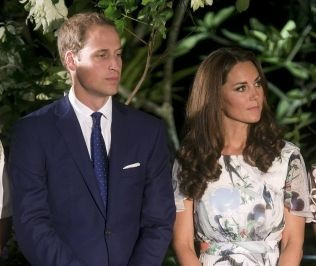 The Duke and Duchess of Cambridge have initiated legal proceedings against the magazine responsible for publishing topless photos of Kate Middleton on 14 September.
The images, captured with a long lens camera during the Cambridges' holiday in France, were printed by a France-based gossip magazine called Closer, which is independent of the UK publication which carries the same name.
The French version of Closer is published by the Italian publishing house Mondadori, which is owned by former Italian prime minister Silvio Berlusconi.
Representatives of the British royal family, who have been consulting their legal teams, will begin criminal prosecution, on behalf of the Duke and Duchess of Cambridge on 17 September.
"Lawyers for the royal couple will make the request at a Paris court on Monday, also seeking damages from the French magazine, Closer, and an injunction against the publication of further images. We can confirm that a criminal complaint is to be made to the French Prosecution Department tomorrow," a St James' Palace spokesperson stated.
William and Kate have reportedly been "saddened" by this breach of their privacy but have remained focused on their royal duties. The couple are presently touring the Asia-Pacific region on behalf of the Queen and are now in the Solomon Islands.
"Their Royal Highnesses had every expectation of privacy in the remote house. It is unthinkable that anyone should take such photographs, let alone publish them," a palace statement read, adding, "the incident is reminiscent of the worst excesses of the press and paparazzi during the life of Diana, Princess of Wales."
However, Closer magazine has reacted to the backlash against the images by defending their decision to take the photographs and publish them.
"The photos we selected are by no means degrading. They show a young couple on vacation, beautiful, love, modern in their normal life," the magazine clarified in a statement.
Irish Daily star set for closure
Following Closer's lead, the photographs have also been used by the Irish Daily Star, a tabloid published in the Republic of Ireland, and Italian magazine Chi, which has previously come into conflict with the royal family by publishing photographs of the late Princess Diana as she lay trapped in the wreckage of her Mercedes after it crashed in 1997.
The Irish Daily star's decision to publish the pictures has already provoked fury from media mogul Richard Desmond, who has promised to shut down the newspaper.
Speaking shortly after the images went to press, Desmond said: "I am very angry at the decision to publish these photographs and am taking immediate steps to close down the joint venture.
"The decision to publish these pictures has no justification whatever and Northern & Shell condemns it in the strongest possible terms."